The Payroll Report permission enables agencies to restrict employees' sensitive payroll data to authorized users. This feature ensures compliance with payroll record-keeping requirements and streamlines agency operations by providing control and flexibility to operate based on individual practices.
Permission to access payroll reports can be granted when creating a new user or by editing an existing user's profile. To grant payroll report permissions to an existing user, navigate to the People Center under the People tab. Edit the user's profile and navigate to the Permissions tab using the left-side menu. Scroll to the Reports section and check the View and Export boxes next to Payroll Report. Click Save to complete the process.
People tab ➜ People Center ➜ Edit ➜ Permissions tab ➜ Reports section ➜ Payroll Report ➜  Save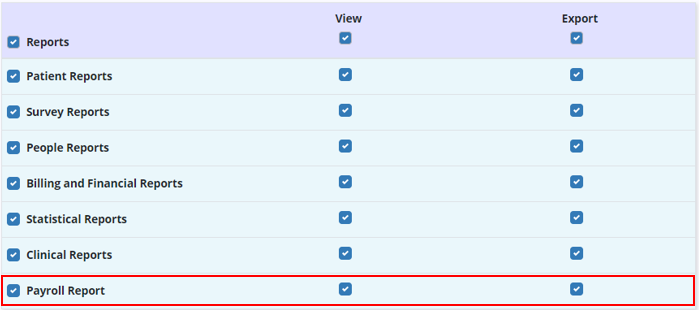 This permission enables users to access the Payroll Report in the People Reports and Billing and Financial Reports sections of the Report Center.
Reports tab ➜ Report Center ➜ People Reports or Billing and Financial Reports ➜ Payroll Report

Note: Unless permissions are also given for People Reports and/or Billing and Financial Reports, the Payroll Report will be the only report visible in these areas of the Report Center.
Updated on 3/12/2020