The Financial/Payroll tab in Company Setup has been separated into two tabs to accommodate growing permissions and functionality.
Users with permission to view the Financial/Payroll tab will now see separate Financial and Payroll tabs in Company Setup.
To give a user permission to view financial and payroll data, navigate to the user's profile and select the Manage Company Information permission under Administration.
Admin tab ➜ Lists ➜ Users ➜ Edit ➜ Permissions tab ➜ Administration section ➜ Manage Company Information ➜ Save
The Financial tab houses the following functionality:
Closed Accounting
General Ledger Report
Average Discipline Cost per Visit
The Payroll tab houses company payroll policy features, including:
Payroll Export Center
Mileage Calculator
Company Mileage Reimbursement Policy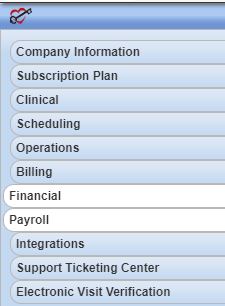 Updated on 2/19/2020