The Payroll Report in Axxess Hospice now provides missed visit data, so agencies have deeper insights into employee payroll activity. By reporting missed visits with other activity that impacts payroll, the Payroll Report enables agencies to maximize productivity, decrease costs and streamline operations.
Users must have permission to access payroll reporting in Axxess Hospice.
Payroll Report Permission
---
To give a user permission to access payroll reporting, edit the user's profile and navigate to the Permissions tab. In the Reports section of permissions, select View and Export next to the Payroll Report permission. Click Save to finish granting the user permission to view and export payroll reporting.
People tab ➜ People Center ➜ Edit ➜ Permissions tab ➜ Reports section ➜ Payroll Report ➜  View/Export ➜ Save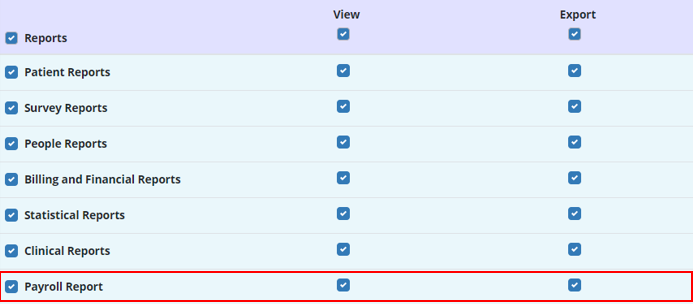 Generate the Payroll Report
---
To generate the Payroll Report, navigate to the Report Center under the Reports tab. The Payroll Report is listed under the People Reports and Billing and Financial Reports sections in the Report Center. Click on the report title to open the report.
Reports tab ➜ Report Center ➜ People Reports/Billing and Financial Reports section ➜ Payroll Report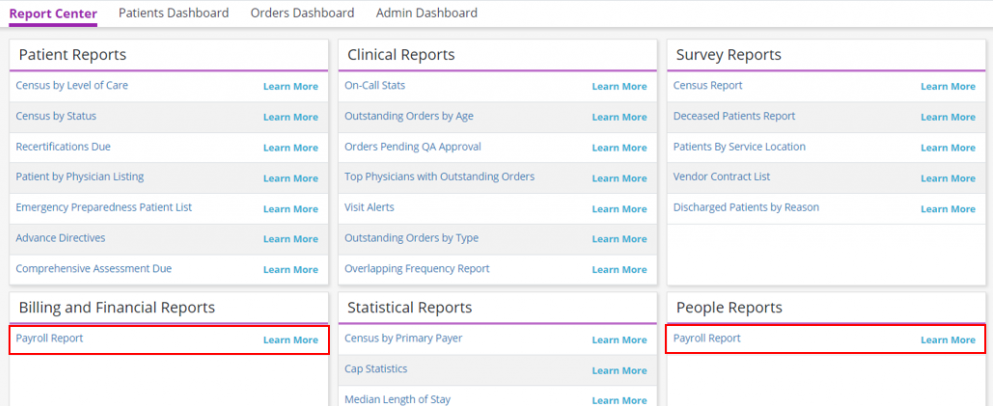 The new Missed Visit column provides visibility into which tasks have been completed as missed visits. Click on the Missed Visit column header to sort the data by missed visit status.

Updated on 7/06/2020