Large enterprise organizations often operate under many provider numbers (NPIs) and submit claims under multiple tax ID numbers (TINs).
While many users in an organization may only ever see one provider's information, others will require oversight and visibility into multiple providers to ensure that organizational operations are running smoothly.
Axxess Hospice now enables organizations to identify their providers' lines of service (hospice or palliative care) and filter the system by provider and line of service upon logging in.
Provider Line of Service
---
Organizations can view their providers' lines of service in Company Setup. To view a provider's line of service, navigate to Company Setup under the Admin tab. At the top of the Company Information tab, select the appropriate provider from the Provider drop-down menu. The provider's line of service appears under the Line of Service field in the Provider Information section.
To update a provider's line of service, users must contact Axxess. The workflow in Axxess Hospice will be adjusted based on the line of service selected for the provider.
Admin tab ➜ Company Setup ➜ Company Information tab ➜ Provider Information section ➜ Line of Service

Providers/Line of Service Filter
---
Users can now filter by line of service and provider on the initial login screen in Axxess Hospice. As users navigate through Axxess Hospice, the system will filter based on the providers and line of service selected on the login screen.
Upon logging in to Axxess Hospice, select Hospice or Palliative Care to filter the system by line of service. Under the lines of service, check the boxes to filter by provider. Users can select multiple providers to filter by, but can only view one service line at a time.
To save the selected line of service and providers, check the box next to Remember my selection for this organization.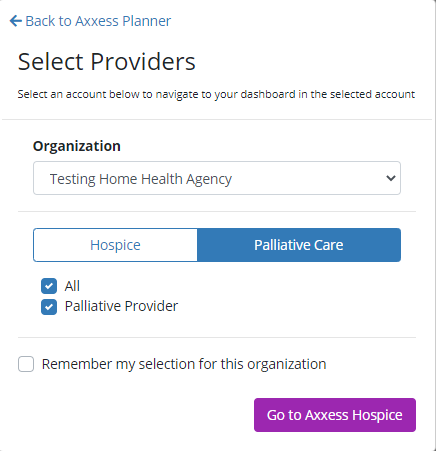 Users can manage the filters at any time by navigating to the top of the menu bar and clicking on their organization name.

Multi-Select Branches Filter
---
Users can now select multiple branches from the Branches filter in the following locations:
Under the Home tab:
| | |
| --- | --- |
| Pending Co-Signature | |
| Quality Assurance (QA) Center | |
| HIS Export Manager | |
Under the Patients tab:
Under the Schedule tab:
Under the IDG Center tab:
| | |
| --- | --- |
| Interdisciplinary Group (IDG) Center | |
Under the People tab:
Under the Billing tab:
| | |
| --- | --- |
| Claims | |
| Claims History | |
| Notice of Election (NOE) | |
| Notice of Termination/Revocation (NOTR) | |
Under the Reports tab:
| | |
| --- | --- |
| Emergency Preparedness Patient List | |
| Cap Statistics | |
| Patient by Physician Listing | |
| Bill Holds | |
Under the Lists menu: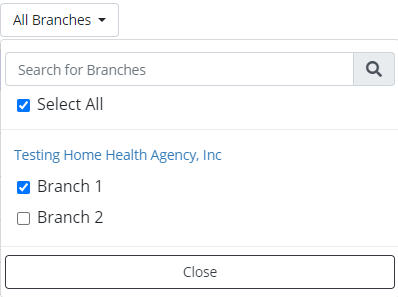 Updated on 04/07/2021