Axxess Hospice now enables users to create custom medication order sets for commonly used medications.
By creating medication order sets, organizations can document patient medications easily and accurately to decrease documentation time, streamline operations, optimize patient care and stay compliant with medication management policies and requirements.
To create and manage medication order sets, users must have permission to view, add and edit custom medications in Axxess Hospice.
Custom Medication Permissions
---
To give a user permission to document custom medications, edit the user's profile and navigate to the Permissions tab. In the Administration section, select View, Add, Edit and Delete next to the Custom Medications permission. Click Save to finish granting the permissions to the user.
People tab ➜ People Center ➜ Edit ➜ Permissions tab ➜ Administration section ➜ Custom Medications ➜ View/Add/Edit/Delete ➜ Save

Create a Medication Order Set
---
To create a medication order set, navigate to the list menu and select Custom Medications.

➜ Custom Medications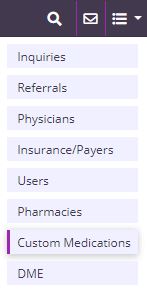 In the Custom Medications window, navigate to the Order Sets tab. A list of order sets that have been added for the organization will appear, with details about when each order set was created and last modified. To add a new order set to the list, click Add Order Set.
Enter a name in the Order Set Name field, and click Add Medication to add medications to the order set.

Enter the medication details and click Save Medication to add the medication to the order set, or click Save Medication & Add Another to add the medication and begin adding the next medication in the set.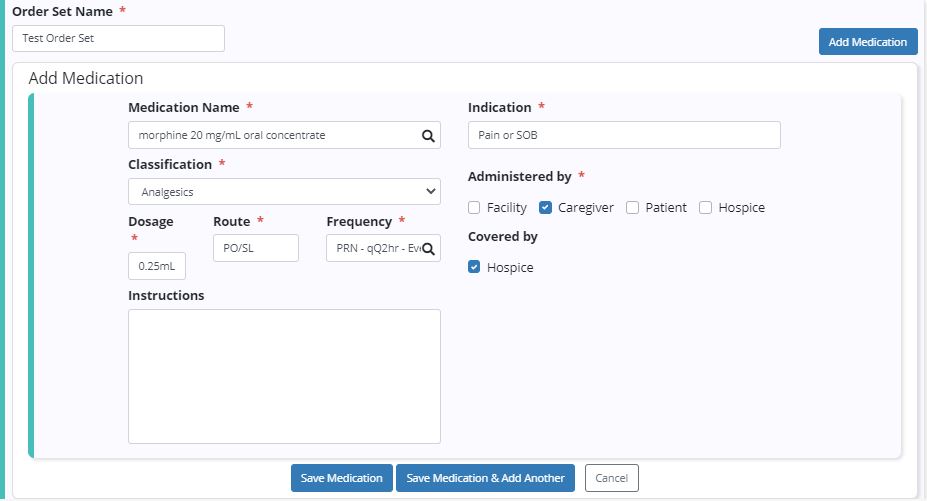 Once all medications have been added, click Save Order Set.
Add an Order Set to a Patient's Medication Profile
---
Once a medication order set has been created, it can be added to a patient's medication profile. To add an order set to a patient's medication profile, open the patient's medication profile by selecting Medication under the Patients tab or from the Quick Links menu in the patient's chart.
In the patient's medication profile, click Update Medications to select or create a physician order for the new medications. Click Add Order Set to add a medication order set to the patient's profile.

In the Add Order Set window, select an order set and enter a start date and discontinue date. The physician will populate automatically based on the physician selected on the order.

Once an order set is selected from the Order Set menu, a list of medications in the order set will appear. Users can edit or delete medications before adding them to the patient's profile, based on any specifications given by the physician. Click Add Medications to add the list of medications to the patient's medication profile.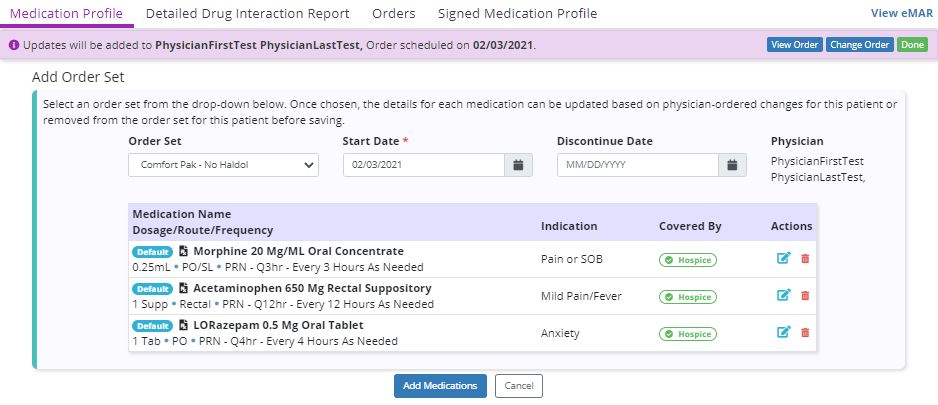 The medications will appear in the patient's active medications list and in the patient's eMAR. Medications added through an order set will appear with an icon, so users can quickly identify which medications were added through a medication order set.

Updated on 01/20/2021