The HIS Export Manager enables users to review, edit, and approve HIS Admission and Discharge documents, generate cancellations, and make corrections. Data is automatically collected from clinical documents and populates in the HIS Export Manager for review.
Access the HIS Export Manager by clicking the Home tab and selecting HIS Export Manager from the drop-down menu.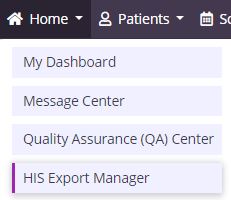 Three tabs appear across the top of the HIS Export Manager:
1) Pending Approval
2) Export Ready
3) Export History
On each tab, users can search by patient name, filter by date range, and/or filter by export type to locate a specific record.
Pending Approval
HIS Admission and HIS Discharge documents populate on the Pending Approval tab for users to review and approve. HIS documents can be edited and printed using the buttons in the Actions column.

On the left side of the screen, the Days Remaining column displays the number of days before the HIS must be approved. Reviewers have 14 days to approve HIS Admission documents, and 7 days to approve HIS Discharge documents.
Days are color-coded based on the number of days remaining before the countdown to approve an HIS runs out:
Green = More than 5 days remaining
Orange = 5 to 1 days remaining
Red = 0 days remaining or overdue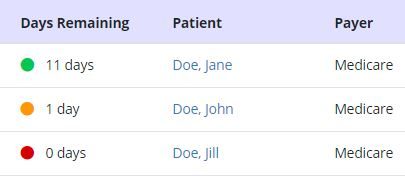 Once an HIS is approved, it moves from Pending Approval to Export Ready.
Export Ready
The Export Ready tab displays HIS documents that have been approved and are waiting to be exported. The countdown for submissions is 30 days after the admission or discharge date.

In the top right corner, the blue Generate HIS File button enables users to generate an export file by checking the boxes next to the desired files and clicking the blue button. Once a file is exported, users can label files as exported using the green Mark Selected as Exported button.

Once a file is marked as exported, it moves to the Export History tab.
Export History
Once the agency receives the file indicating if it was approved or rejected, users can update the status by selecting Update Status in the Actions column, or checking the boxes on the left side of multiple rows and clicking the Update Status button to update statuses in bulk. Users can also create correction or cancellation files by clicking Make a Correction and Generate Cancel in the Actions column.