The Supervisory Visit Report enables quick, real-time monitoring of supervision for all disciplines. Agencies can generate this report to streamline supervisory operations for all teams and disciplines across all agency branches. With complete visibility into all supervisory activity, agencies can ensure that CMS-mandated supervision requirements are fulfilled to sustain continued compliance.
To generate the Supervisory Visit Report, users must have permission to view clinical reports.
Clinical Report Permissions
---
To give a user permission to view clinical reports, edit the user's profile and navigate to the Permissions tab. In the Reports section, select View next to the Clinical Reports permission. To enable the user to export clinical reports, select Export next to Clinical Reports. Click Save to complete the process.
People tab ➜ People Center ➜ Edit ➜ Permissions tab ➜ Reports section ➜ Clinical Reports ➜ View/Export ➜ Save

View the Supervisory Visit Report
---
To view the Supervisory Visit Report, navigate to the Report Center under the Reports tab. In the Clinical Reports section, select Supervisory Visit Report.
Reports tab ➜ Report Center ➜ Clinical Reports section ➜ Supervisory Visit Report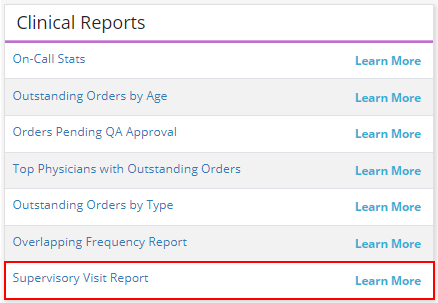 The Supervisory Visit Report shows a list of supervisory visits sorted by discipline, and the number of days since the last supervisory visit was completed. If a discipline has been ordered but no supervision has been completed, this will also be indicated in the report under Days Since Last Supervision.
To export a copy of the report to Excel, click the Export button in the top right corner of the report.

Updated on 4/09/2020