The Billing tab includes the following menu items:
Billing Dashboard
Claims
Claims History
Notice of Election (NOE)
Notice of Termination/Revocation (NOTR)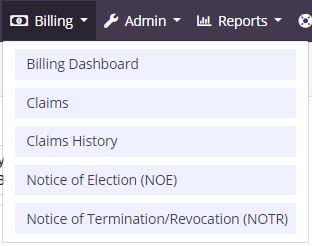 Billing Dashboard
---
The Billing Dashboard includes the following six tiles that display information that is important to a biller's daily operations:
Electronic Fund Transfers (This Week & Future) – Displays the amount of paid and projected payments in a bar graph. Hover over any bar on the graph to view the exact payment.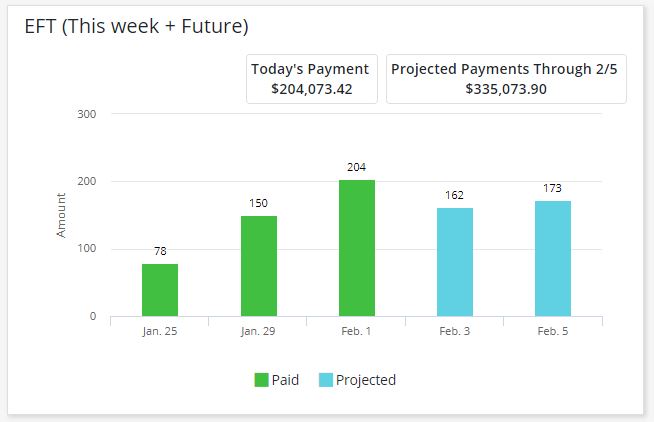 Claims Ready for Billing – Displays the number of NOE, NOE – Transfer, NOTR, and total claims. Users can click any of the hyperlinks to view a list of claims in that category.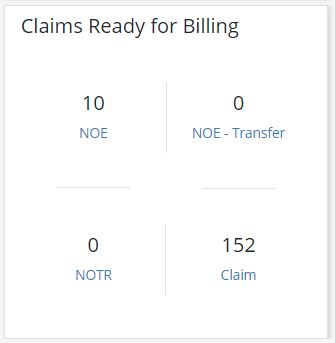 Bill Holds – Displays the number of bills being held because of outstanding orders, incomplete visits, sequential billing, and Plans of Care.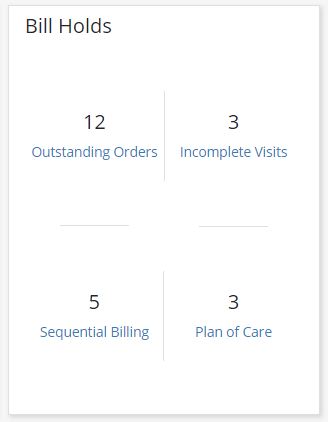 Claim Count Summary – Displays the number of Paid, Pending Payment, Pending, Returned, Rejected, and Denied claims in a pie graph.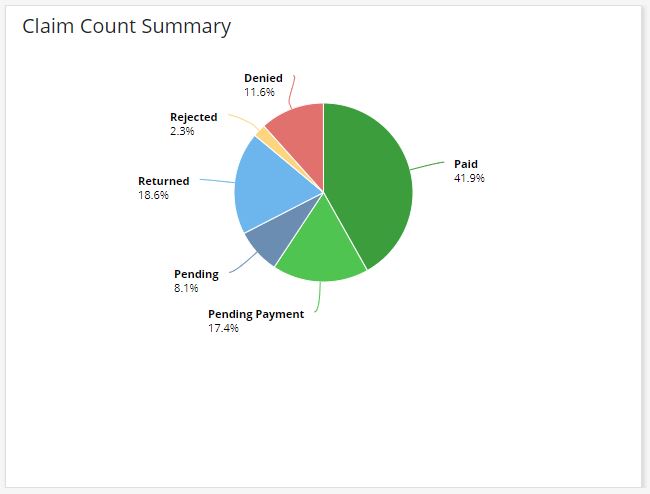 Patient Census by Level of Care – Displays the number of patients by level of care and the number of overnight changes.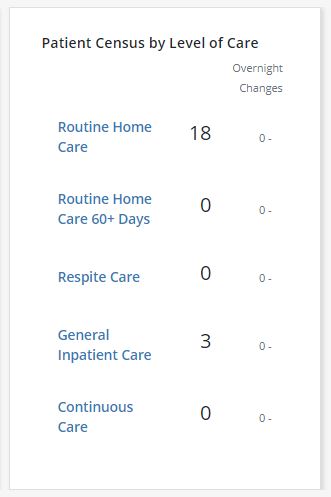 Eligibility Issues – Displays the number of MSP Patients, Overlapping Hospice, and Overlapping Home Health patients that are causing eligibility issues.
Claims
---
Click Claims to view a list of the following information:
Patient Name
Claim Date Range
Prior Claim Status
Visits Completed
Orders Completed
Claims are ready in the software once each column has the green Ready check mark. To verify a Claim, select the Verify hyperlink under Actions. Confirm that the following information is signed, dated, and available as an attachment:
NOE for new patients entered into DDE and accepted
Signed and dated Orders, F2F and CTI
Completed visits
When a claim is being verified, the Action message says Verification In Progress.
Once all information is confirmed/entered, select the Verify button.
Claims History
---
Click Claims History under the Billing tab to view a list of the following information:
Type – Type of bill
Claim Range – Date range of claim
Status – Allow users to check if the sequential claim is ready to be submitted
Claim Amount
Total Amount
Positive & Negative Adjustments
Balance
Billed Date – Date when claim was submitted
Payment Date – Date when claim was paid
Find specific patients on the left side of the page with the following filters:
Search – Start typing a name and the list narrows down to match.
Branch – Select if more than one.
Status – Choose from Active, Discharged, Pending, Non-Admitted, or Deceased.
Level of Care – Choose from Routine, Respite, Continuous Care, or General Inpatient.
After the patient has been selected, view the NOE, NOTR or Claim by selecting the hyperlink on the left side. Create a New NOE, NOTR or Claims by selecting the plus icon at the top of the page.
Edit, Print or Delete billing items by selecting the corresponding icons on the far-right underneath Actions. To go directly to the Patient Chart, select the View Patient Chart hyperlink in the top right.
Notice of Election (NOE)
---
Click Notice of Election (NOE) under the Billing tab to view a list of the following information:
Patient Name
Admission Date
Election Form
CTI
Initial Assessment
Notice of Termination/Revocation (NOTR)
---
Click Notice of Termination/Revocation (NOTR) under the Billing tab to view a list of the following information:
Patient Name
Revocation/Discharge Date
Discharge Visit
Revocation Statement