Axxess Hospice now enables users to schedule LPN/LVN visits and LPN/LVN PRN visits on the Patient Schedule and Employee Schedule screens. Once a user adds these visit types to the appropriate payers, the visits will flow automatically to corresponding claims.
To schedule LPN/LVN visits, users must have scheduling permissions in Axxess Hospice.
Scheduling Permissions
---
To give a user scheduling permissions, edit the user's profile and navigate to the Permissions tab. In the Clinical section, check the box next to the Schedule permission. Click Save to finish granting the permission to the user.
People tab ➜ People Center ➜ Edit ➜ Permissions tab ➜ Clinical section ➜ Schedule ➜ Save

Schedule LPN/LVN Visits
---
To schedule an LPN/LVN visit, navigate to the Patient Schedule or Employee Schedule screen under the Schedule tab and select Add Task. In the Task drop-down menu, select LPN/LVN Visit. To schedule an LPN/LVN PRN visit, select LPN/LVN PRN Visit.
Complete the remaining fields and click Save Task to add the visit to the schedule. These visits will count against the skilled nursing frequency.
| | |
| --- | --- |
| LPN/LVN Visit: Used to document care provided by an LPN/LVN | |
| LPN/LVN PRN Visit: Used to document PRN visits provided by an LPN/LVN | |
Schedule tab ➜ Patient Schedule/Employee Schedule ➜ Add Task ➜ Task ➜ LPN/LVN Visit or LPN/LVN PRN Visit ➜ Save Task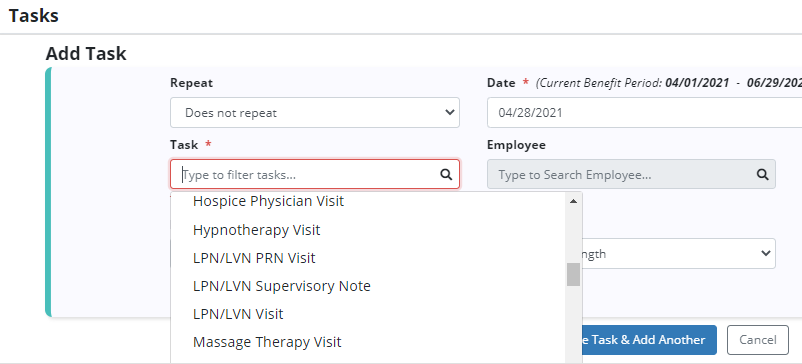 The selected employee must have LPN or LVN credentials in their user profile to be assigned to an LPN/LVN visit.
For these visits to flow to the appropriate claims, the visit task must be added to the appropriate payers under the fee schedule with REV code 0551 and HCPCS code G0300.
Updated on 05/06/2021