The Billing tab in Axxess Hospice has been updated so menu items now appear in the order that daily billing tasks should be performed. This enhancement streamlines billing operations and enables users to prioritize and execute daily billing processes according to best practices.
Users must have permission to access the Billing tab in Axxess Hospice.
Billing Permissions
---
To give a user permission to view the Billing tab, edit the user's profile and navigate to the Permissions tab. In the Billing section, check the box next to the Billing header to select all boxes in the section. Click Save to finish granting the permissions to the user.
People tab ➜ People Center ➜ Edit ➜ Permissions tab ➜ Billing section ➜ Save

Billing Tab
---
The drop-down menu under the Billing tab now displays the following options: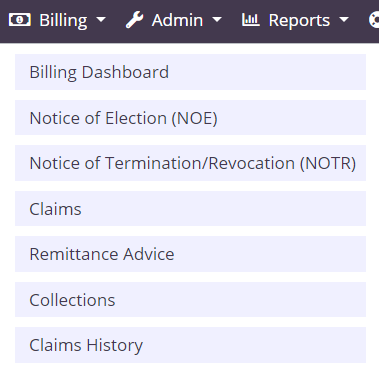 When working in any of the billing screens, the Billing tab items appear across the top of the screen. Users should work left to right to complete daily billing tasks.

Updated on 04/06/2022