Select Patient Charts under the Patients tab to enter the Patient Charts.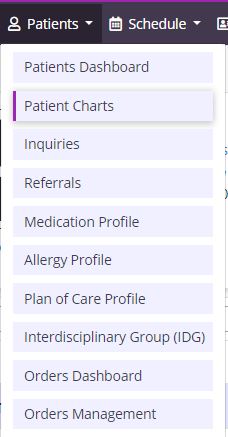 Find a specific patient using the filters and/or search on the left-side menu. Filter by:
Branch – Choose the branch (if more than one).
Status – Choose from Active, Discharged, Pending, Non-Admitted, Deceased.
Level of Care – Choose from Routine, Respite, Continuous Care or General Inpatient.
Patient Search – Start typing a name and the list narrows down as you type.
Select a patient's name to view his/her chart.
The banner at the top of each Patient Chart provides a quick view of the patient's demographics. There are hyperlinks to the patient address and phone number.
Select Edit Profile under the patient's photo to view the patient's full Demographics, Payer Information, Clinical Information, Physician(s), Pharmacy and DME, Authorized Contacts, Emergency Preparedness, Advance Directives and Referral Information.