IDG meeting management functionality gives agencies flexibility and control over the level of compliance integrated in the software. Using this functionality, agencies can tailor the software to accommodate their specific processes and individual operations.
Warnings built into the system alert users to important information during the IDG meeting workflow, so agencies can stay compliant.
The IDG meeting 15-Day Compliance toggle enables agencies to select the level of compliance they want in their IDG meeting processes. To access the 15-Day Compliance toggle in Company Setup, users must have permission to edit company information.
Company Setup Permissions
---
To give a user permission to edit company information, edit the user's profile and navigate to the Permissions tab. In the Administration section, select Edit next to the Company Setup permission. Selecting Edit will automatically grant the View permission so the user can view and edit company information in Company Setup. Click Save to complete the process.
People tab ➜ People Center ➜ Edit ➜ Permissions tab ➜ Administration section ➜ Company Setup ➜ Edit ➜ Save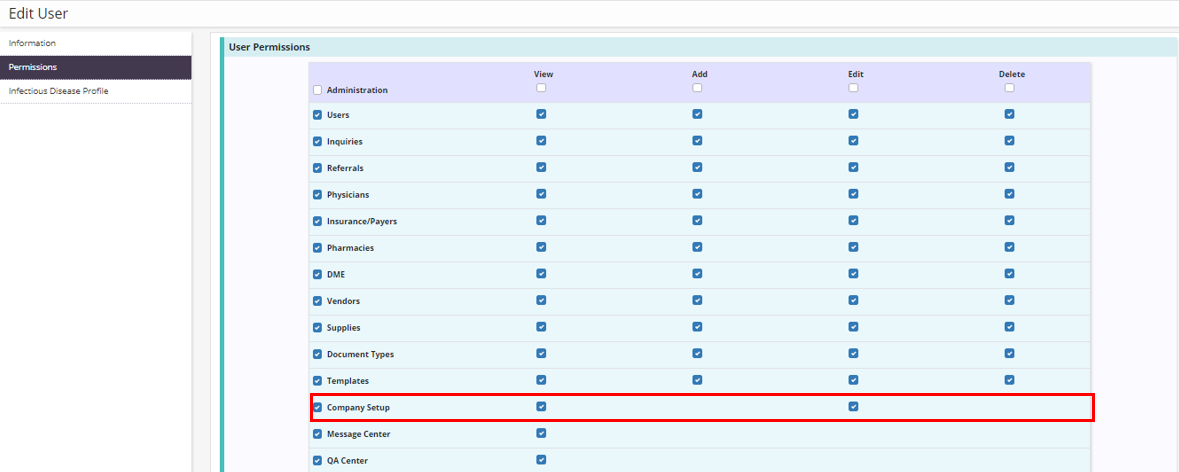 15-Day Compliance
---
To access the toggle, navigate to Company Setup under the Admin tab. Select the Clinical tab on the left side and navigate to the Interdisciplinary Group (IDG) Meetings section. Select Enable or Disable under 15-Day Compliance and click Save to finish enabling or disabling the feature.
Admin tab ➜ Company Setup ➜ Clinical tab ➜ IDG Meetings section ➜ 15-Day Compliance ➜ Enable/Disable ➜ Save

When enabled, users cannot end IDG meetings or remove patients from a meeting if it will cause the patient to be out of compliance with CMS regulations, which require an update to the comprehensive assessment at least every 15 days.

By default, these hard-stops are disabled. When 15-day compliance is disabled, a warning message will notify users when they are exceeding the 15-day limit by removing patients or ending an IDG meeting, but users can proceed after acknowledging the warning.