Axxess Hospice now enables users to flag patient charts as "Hospitalized" when a patient is hospitalized. Additionally, a new report in Axxess Hospice enables users to easily track and monitor hospitalizations.
Hospitalized Flag
---
To flag a patient as hospitalized, navigate to the patient's chart and select the edit icon next to the patient status indicator.
Patients tab ➜ Patient Charts ➜


In the Change Patient Status window, select Hospitalized from the Status drop-down menu. The Hospitalized Date and Hospitalized Reason fields are required. The facility name and contact information can also be entered. Click Save to finish changing the patient's status.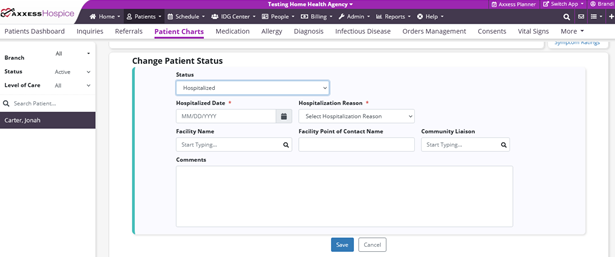 When the information is saved, the user will receive a notification asking if the service location needs to be updated for the patient. Click Yes to update the service location, or No if the service location does not need to be updated.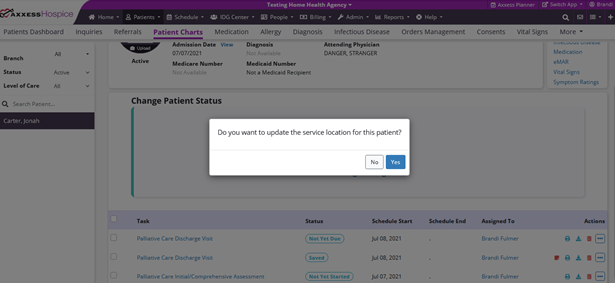 The Hospitalized flag will appear at the top of the patient's chart.

To remove the Hospitalized flag, follow the same actions to update the patient status to Active. The date selected as the active date will be the date that the system uses as the hospitalization end date for reporting.
Hospitalized Patients Report
---
To access the new Hospitalized Patients Report, navigate to the Report Center under the Reports tab. In the Clinical Reports section, select Hospitalized Patients Report.
Reports tab ➜ Report Center ➜ Clinical Reports section ➜ Hospitalized Patients Report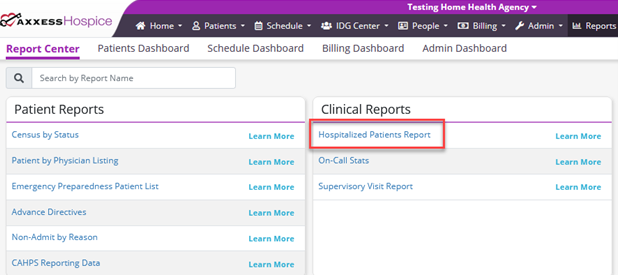 When selected, the report will open in a new window with the following parameters:
| | |
| --- | --- |
| Date Range – This will default to the last 30 days. | |
| Branch – This will default to all. | |
| Team – This will default to all. | |
| Status – This will default to all. | |
When the report is generated, the following information will be included on the report:
| | |
| --- | --- |
| Days Hospitalized | |
| Branch | |
| Team | |
| Status | |
| MRN | |
| Patient Last Name | |
| Patient First Name | |
| Payment Source | |
| Admission Date | |
| Primary Diagnosis | |
| Hospitalization Date | |
| Date of Last Visit | |
| Facility Name | |
| Hospitalization Reason | |
| Clinical Manager | |
| Case Manager | |
Updated on 07/14/2021