Axxess Hospice now enables organizations to automatically generate medical record numbers (MRNs) for each patient admitted in the system.
To automatically generate MRNs, organizations must enable this feature in Company Setup.
Enable Automatic MRN Generation
---
To enable automatic MRN generation, navigate to Company Setup under the Admin tab. On the Operations tab, navigate to the Medical Record Number section and click Enable.
Admin tab ➜ Company Setup ➜ Operations tab ➜ Medical Record Number ➜ Enable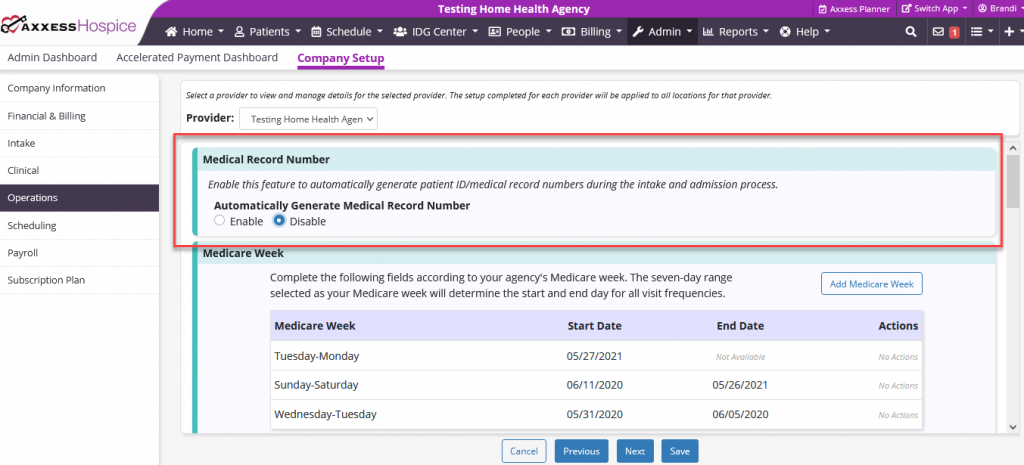 Click Add Segment to begin configuring the medical record number. Each segment is part of the medical record number and can consist of alpha or numeric characters.
From the Generation Type menu, select Static or Dynamic.
The Static option enables the user to enter a defined set of characters that will not change. Users can enter the set of unchanging characters in the Generation Text box.

The Dynamic option enables the user to select if the segment should be alpha or numeric and to select the number of characters in the segment.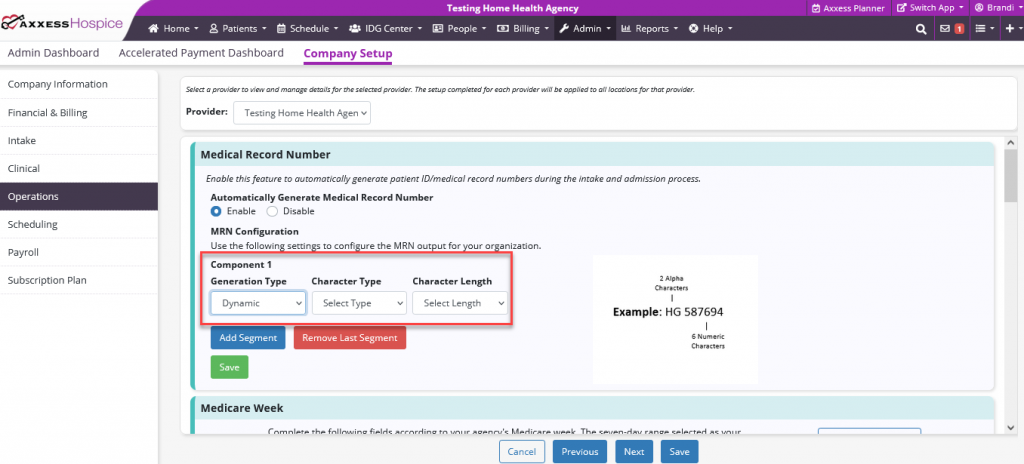 Once a segment has been created, click Add Segment to add a new segment and continue configuring the medical record number. To remove the most recent segment, click Remove Last Segment.
When the MRN setup is complete, users must ensure that the configuration is feasible within the system.
| | |
| --- | --- |
| There cannot be only one static segment, as this will only generate one MRN in the system. | |
| If there is only one dynamic segment, it must be at least four characters long to ensure an adequate number of MRN combinations. | |
| There cannot be two consecutive dynamic segments. | |
| Only a maximum of five segments or 50 total MRN characters are allowed. | |
To proceed with the setup, click Save at the bottom of the screen. Once the information is saved, the feature will begin working within the system.
When a referral is converted to a pending patient, the system will automatically generate a medical record number. This field will remain editable in the patient profile.

Updated on 06/16/2021