The palliative-specific workflow in Axxess Hospice eliminates unnecessary documentation and optimizes efficiency for palliative care. The following latest updates ensure that patient chart information for palliative patients aligns with palliative processes and regulations.
Patient Charts Update
---
Since ordered disciplines are not applicable to palliative care patients, the Ordered Disciplines indicator has been removed from the patient information header in palliative patients' charts.
Clinical Documentation Update
---
Some items related to coordination of patient care are applicable in hospice but not applicable in palliative care. The Palliative Care Initial/Comprehensive Assessment houses coordination of care items for the clinician to document. The following updates have been made in the Coordination of Care section on the Summary tab of this task:
| | |
| --- | --- |
| Hospice Physician has been changed to Physician | |
| Aide/Homemaker has been removed | |
| Volunteer Coordinator has been removed | |
| Clinical Manager has been removed | |
| Bereavement Counselor has been removed | |
| Nurse Practitioner has been added | |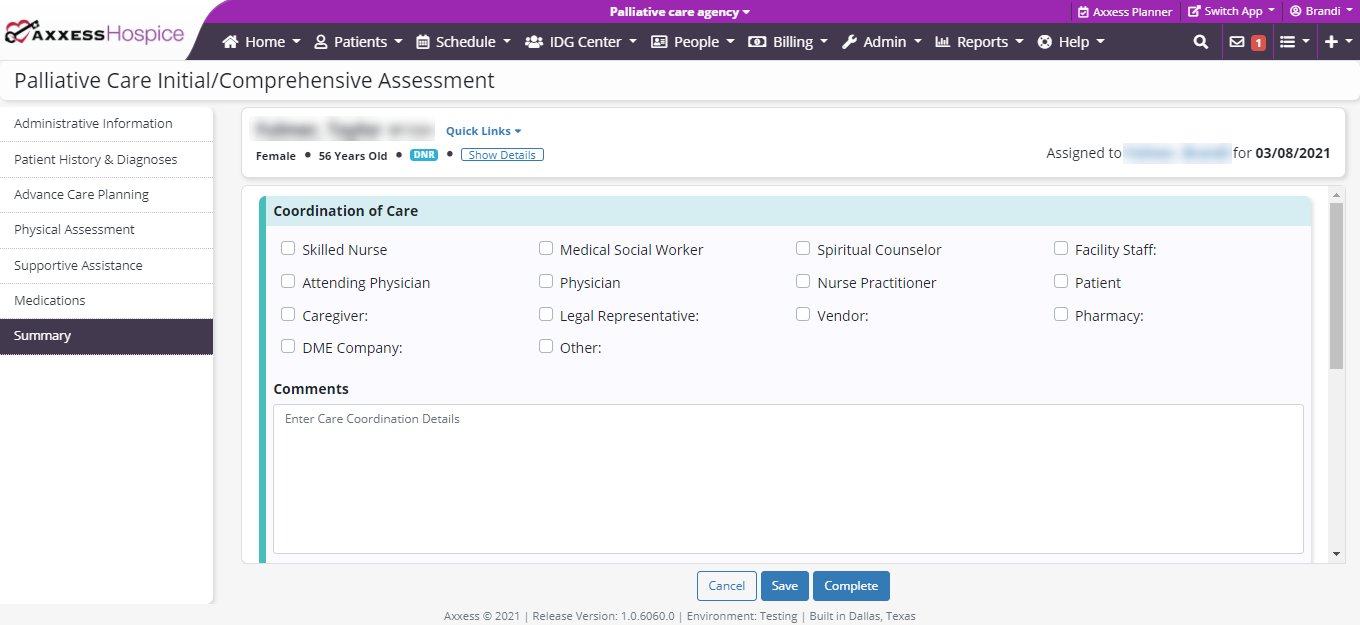 Non-Covered Items Update
---
In palliative care, there is no need to indicate whether an item is covered by hospice. For this reason, the Non-Covered Items tab and Non-Covered Items quick link are not present for palliative patients.
Medications Update
---
For palliative care patients, it is not applicable to indicate if the hospice should administer a medication. For this reason, the Hospice option has been removed from the Administered By section when viewing or editing a medication.
Report Updates
---
The following reports are not applicable to palliative care and will no longer be accessible when viewing a palliative provider:
| | |
| --- | --- |
| Overlapping Frequency Report | |
| Certification Watch Report | |
The Certification Watch widget has also been removed from the Schedule Dashboard for palliative patients.
Updated on 03/10/2021