Axxess Hospice now provides a report that enables users to view and monitor physician licenses with upcoming expiration dates. The Expiring Physician Licenses Report pulls data from the new License Number and Expiration Date fields on the physician setup screens.
Users must have permission to enter physician license information in Axxess Hospice.
Enter Physician Information
---
To give a user permission to view and manage physicians, edit the user's profile and navigate to the Permissions tab. In the Administration section, select View, Add, Edit and Delete next to the Physicians permission. Click Save to finish granting the permissions to the user.
People tab ➜ People Center ➜ Edit ➜ Permissions tab ➜ Administration section ➜ Physicians ➜ View/Add/Edit/Delete ➜ Save
To enter a physician's license number and expiration date, navigate to the Physicians list from the lists menu (

). Select Edit next to the desired physician and scroll to Primary and Secondary License Number, License State and Expiration Date. Complete the fields and click Save Physician.

➜ Physicians ➜ Edit ➜ License Numbers/License State/Expiration Date fields ➜ Save Physician

Expiring Physician Licenses Report
---
To generate the Expiring Physician Licenses Report, users must have permission to access the people reports. To generate the report, navigate to Report Center under the Reports tab. In the People Reports section, select Expiring Physician Licenses Report.
Reports tab ➜ Report Center ➜ People Reports ➜ Expiring Physician Licenses Report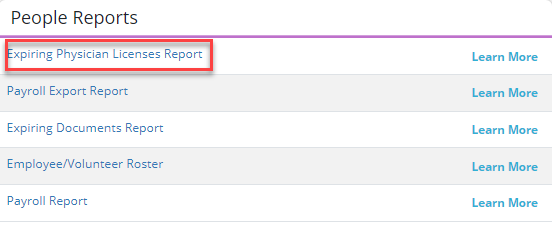 The report will open in a new window with the following filters:
| | |
| --- | --- |
| Provider/Branch | |
| Status | |
| Expiration Date Range | |
To generate the report, select the desired options from the filters at the top of the screen. Based on the filter options selected, the following data will populate on the screen:
Provider

NPI

First Name

Last Name

Credentials

Status

License Number

Expiration Date

License Type

State

Click Export to export the report to Excel for further analysis.
Updated on 02/02/2022