Axxess Hospice now enables users to create and send messages from the QA Center during QA review.
By facilitating seamless communication between QA reviewers and care providers, this feature streamlines QA processes and supports compliant documentation to optimize care delivery.
To send messages during QA review, users must have permission to access the QA Center and Message Center.
Message/QA Center Permissions
---
To give a user permission to view the Message Center and QA Center, edit the user's profile and navigate to the Permissions tab. In the Administration section, select the Message Center and QA Center permissions. Click Save to finish granting the permissions to the user.
People tab ➜ People Center ➜ Edit ➜ Permissions tab ➜ Administration ➜ Message Center/QA Center ➜ Save

Send a Message in the QA Center
---
To access the QA Center, navigate to the Home tab and select Quality Assurance (QA) Center.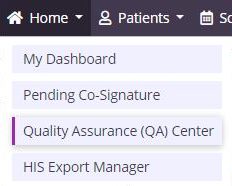 Select a document to review by clicking the title of the document in the Task column. To send a message to the assigned user, click Message User at the bottom of the screen.

A message box will generate under the document. Compose the message and click

to send the message. Select Return to send the document back to the clinician for review.

Updated on 7/30/2020