The mileage calculator feature automatically captures travel time and mileage, based on employee home addresses and patient visit addresses entered in the Home Health solution.
This feature enables agencies to streamline operations and ensure compliance:
Streamline operations- Clinicians are no longer required to track and manually enter mileage on each visit.
Ensure compliance- Mileage calculations are based on standardized rules for determining distance and will not vary from one clinician to the next.
Agencies can allow clinicians to continue manually entering time and mileage to compare and confirm the validity of automated mileage calculations. Future iterations of the functionality will extend to payroll export capabilities.
Set Up Mileage Calculator
Select Company Setup from the Admin tab.
Select the Financial/Payroll tab from the left-side menu.
Scroll to the Mileage Calculator section, and select Enable.
Once this is done, the mileage and time between visits will be tracked for all users with more than one visit on weekdays.

The date will populate directly below the Enable button, and an additional functionality will become available under Enable Weekends. Check the box to enable the mileage calculator for weekend visits, when more than one weekend visit is performed.

Automated Calculations
View automated mileage and travel time calculations for any completed visit from the Action column menu in the Patient Chart or Schedule Center. Click the Menu drop-down and select Details.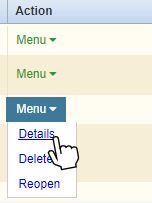 The Auto-Calculated Travel Time and Auto-Calculated Mileage fields will appear in the bottom right of visit Details.

Updated on 8/06/2019