New Therapy Assessments/Evaluations
---
The following new assessment types have been added to Axxess systems for improved therapy documentation:
PT, OT, ST Assessment/Evaluation
PT, OT, ST Reassessment/Re-Evaluation
Users can access the new assessments by selecting the Therapy tab in the Schedule Center and selecting one of the assessments in the Task drop-down menu.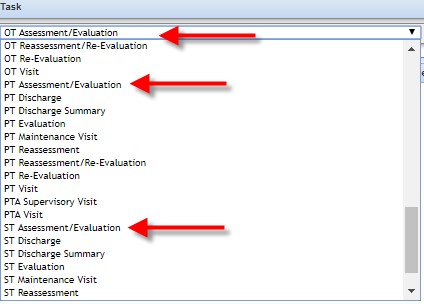 View and Collaborate Tools
---
When an OASIS assessment is completed, the following red indicators will display at the top of the therapy assessment to demonstrate patient risk factors: DNR Status, Fall Risk, Hospitalization Risk, Infection Risk.
The following information will be pre-populated but editable in the therapy assessment for coordination of care: Living Situation, Dwelling, Caregiver Status, Neuro/Behavioral Status, Pain Status, Homebound Narrative, DME, Patient's Personal Goals.

OASIS Functional Collaboration
---
OASIS functional items (M1800 and GG items) carry over to the therapy assessments when the OASIS is completed, to foster collaboration. The clinician's responses from the OASIS assessment appear on the OASIS Functional Status and OASIS Functional Abilities tabs of the therapy assessments. These sections are optional, based on agency policies, and are not printed as part of the therapy assessment documentation.

Apply to All Feature
---
The Apply to All buttons enable quick and easy completion of sections throughout the therapy assessments.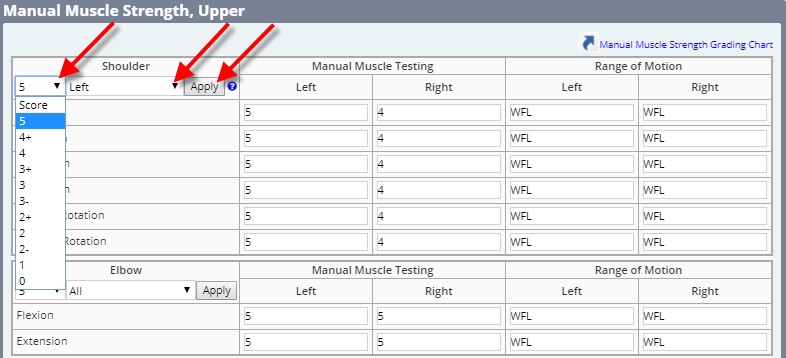 Therapy Tool Box
---
The Therapy Tool Box tab provides a list of standardized tests to assess and document the patient's health status. The Therapy Resources Link button on this tab opens a separate window with additional tools to document health status as needed.

Therapy Plan of Care
---
On the Plan of Care tab, users can enter the Plan of Care Profile and select the Need for Therapy as a problem statement.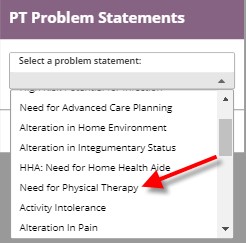 Enter Interventions/Goals for the patient to continue building the Therapy Plan of Care Profile.

Flow of Therapy Orders
---
If the therapy assessment is performed within five days of the start or end of the episode, the therapy orders will automatically flow to the Multidisciplinary Plan of Care.
When the therapy assessment is not performed within five days of the start or end of the episode, the Plan of Care will automatically flow to the Individualized Therapy Plan of Care when the therapy assessment is completed.
If an agency requires Evaluations/Re-Evaluations be appended to therapy orders, the therapist can select to append the full or partial evaluation, under Append Assessment/Evaluation to Therapy Orders on the Plan of Care tab.

Removal of Physician Certification
---
CMS regulations no longer require physician certification statements be included on OASIS assessments. Physician certification statements have been removed from all OASIS-D assessments in Axxess systems, so users are no longer burdened with this past requirement.
Optional Locator POC from OASIS
---
When viewing the PDF for an OASIS-generated Plan of Care, users will see a new Optional Name/Signature locator field.
When a PT/OT/ST Assessment/Evaluation or Reassessment/Re-Evaluation is completed, the signature, date and time will flow from the assessment to the Plan of Care.
Updated on 4/10/2019