Axxess Home Health now enables users to document additional COVID-19 vaccine doses, including boosters and third doses for immunocompromised patients.
To document a COVID-19 immunization in a patient's immunization profile, navigate to the patient's chart and select Immunization Profile from the Quick Reports menu. On the Immunization Profile screen, click Add Immunization.
Select the type of immunization from the Type of Immunization drop-down menu.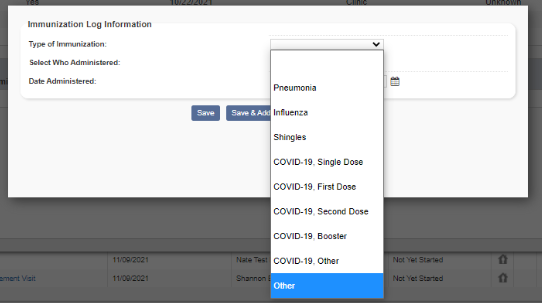 When documenting a vaccine related to COVID-19, the documentation will include the following fields:

Complete these fields and click Save to save the immunization.
COVID-19 Vaccinations Report Updates
---
The COVID-19 Vaccinations Report updates automatically when vaccinations are documented. The Patient Summary tab in the COVID-19 Vaccinations Report now includes the following additional columns:
| | |
| --- | --- |
| Booster Received | |
| Manufacturer | |
| Lot Number | |
| Other Received | |
| Manufacturer | |
| Lot Number | |
| Fully Immunized | |

Fully Immunized refers to patients who have received a single dose or second dose of the COVID-19 vaccine.
Updated on 11/10/2021