OASIS-D Updates
---
OASIS-D has been released early in the Home Health solution to allow clinicians to become familiar with the new requirements before they go into effect on January 1, 2019. Review the changes by scheduling an OASIS-D assessment in the Schedule Center using a mock patient.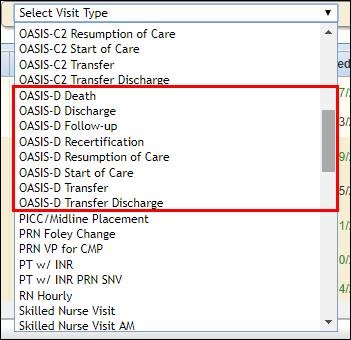 The OASIS-D assessment is very similar to the previous OASIS-C2 in the Home Health solution. The blue, grey and purple sections have remained the same.
Many of the tabs now contain less information due to the removal of 28 items.
The seven modified items in OASIS-D are dispersed throughout the assessment tabs:
M1028 in the Patient History & Diagnoses tab has been revised to include a "None of the above" response option.

In the Integumentary Status tab, the language in items M1306, 1311, 1322 and 1324 has been revised for consistency with the National Pressure Ulcer Advisory Panel.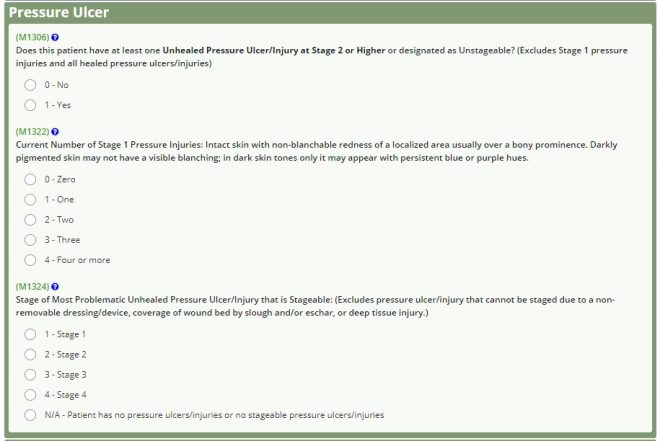 In the Care Management tab, several responses have been removed from M2102 in the Start of Care OASIS.

Lastly, in the Emergent Care tab of the Discharge OASIS, 15 response options have been removed from M2310 leaving four response options.

All six of the new items are contained in a new Functional Abilities & Goals tab.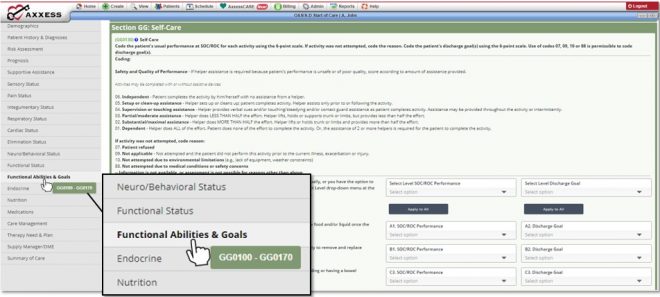 The first four new items comprise the GG section and assess Functional Abilities and Goals. These items include:
GG0100 Prior Functioning: Everyday Activities
GG0110 Prior Device Use
GG0130 Self-Care
GG0170 Mobility
Our Apply to All feature on this tab allows all items in a section to be completed with a single click, maximizing efficiency and ease of use, and reducing documentation time. After selecting Apply to All, you can edit items individually as needed. CMS encourages collaboration, so an assessing therapist may assist with these items.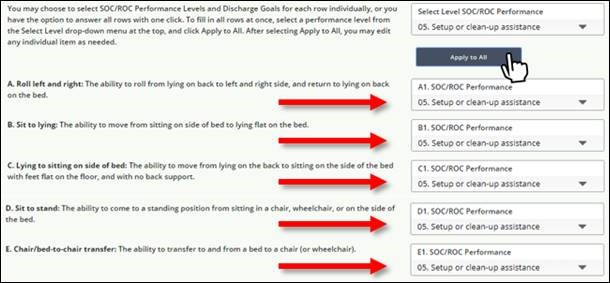 The last two new items comprise the J section and assess Health Conditions Related to Falls. These items are:
J1800 Any Falls Since Start of Care or Resumption of Care (included in the Transfer to Inpatient Facility, Death, and Discharge OASIS)
J1900 Number of Falls Since Start of Care or Resumption of Care (included in the Transfer to Inpatient Facility and Death OASIS)

As you prepare to transition to OASIS-D, the M0090 Date Assessment Completed item is extremely important because it determines whether OASIS-C2 or OASIS-D should be used. OASIS-C2 assessments must be completed by December 31, 2018. OASIS-D assessments can be completed on and after January 1, 2019. M0090 appears under the Clinical Records section of the Demographics tab.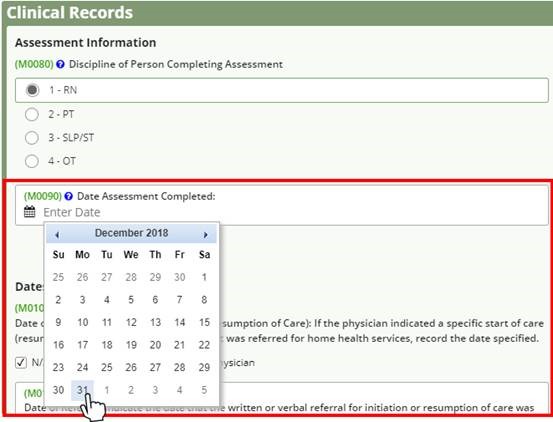 Remember that previous OASIS-C2 notes cannot be loaded into OASIS-D notes, due to the changes.
Other System Changes
---
Scheduling new OASIS-C and C1 visits is no longer possible. OASIS-C2 documentation can still be created. All previous forms of OASIS documentation (including C and C1) will continue to show in the Patient Charts. Users can still open, edit, and print them but new OASIS-C and C1 assessments can no longer be added to the system.
Visits scheduled on or after January 1, 2019 should use OASIS-D assessments to comply with CMS requirements.
OASIS-D Resources
---
Additional information on OASIS-D can be accessed through the following resources:
OASIS-D Changes From OASIS-C2
---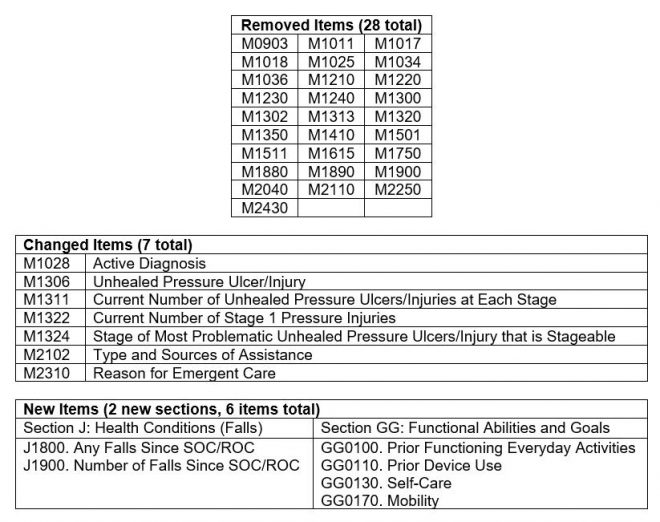 Updated on 11/12/2018