Shingles Vaccination in OASIS-C2
---
The Shingles Vaccination item now appears at the top of the OASIS-C2 Risk Assessment tab (above the Immunization Log section). Text has been added next to the Active Immunizations header instructing the user to Select Add Immunization button to enter vaccination record for the patient.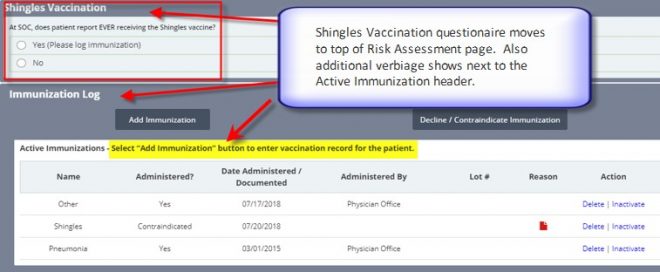 Timed Up and Go (TUG) Value
---
The value for the TUG assessment now can be entered from 0 to 999 seconds.

Plan of Care Data Sections
---
To help easily identify OASIS data sections that flow to locators in the Plan of Care, the headers of these sections are labeled Plan of Care and highlighted in gray. The following sections flow to the Plan of Care:
(Patient History & Diagnosis Tab) Vital Sign Parameters
(Prognosis Tab) Prognosis
(Support Assistance Tab) Psychosocial Assessment, Caregiver Status, Safety Measures
(Neuro/Behavioral Status Tab) Mental/Cognitive Status
(Functional Tab) Functional Limitations, Activities Permitted/Restricted
(Nutrition Tab) Nutritional Requirements
(Supply Manager/DME Tab) Supply Manager, Durable Medical Equipment (DME), Durable Medical Equipment Provider
(Summary of Care Tab) Discipline Orders and Treatment, Rehabilitation Potential and Discharge Plans

Updated on 7/23/2018