Axxess Home Health enables users to manually post remittance advice so claim payments can be easily reconciled to remittances.
In the Billing tab, users with permission can create remittance advices and link claims to the remittance advices for reconciliation. To add a remittance, select Add Remittance.

Once all required fields have been entered, select Create to create the remittance. The remittance will then be saved in the solution and listed in the grid below.

The filter is set to default to your organization's Medicare Administrative Contractor (MAC). Click Edit to edit information such as Check Number (EFT), Payment Date, Payer, Payment Amount, and Received Date. Once edited, click Save Remittance to save information.
Select View Details in the Actions column and a new window will appear.

After adding remittance information, select Create and Link to create the remittance and link claims for the payer. Once selected, a new window appears with remittance details.

The following information is provided at the top of the Remittance Details screen: EFT number, payment date, payment amount, remaining balance and total number of claims associated with the remit. The remaining balance automatically updates as payments are posted to linked claims. The Received Date, Payer Name, Reference ID, Payee Name, Provider NPI and Tax ID also appear in the Remittance Details header. Select Link Claims and a list of claims will populate to be linked to the remittance.

Select Include Zero Balances to include items like No-Pay RAPs in the grid below.

Then select the claims processed on the remit. Once all desired claims have been selected, select Link Claims to link the claim to the remittance.

The claims will now be visible in the Remittance Details page. The page will include the Patient name, Patient Control Number, Payer Control Number, Type of Bill (TOB), Statement From, Statement To, Received On, Claim Amount, Payment Amount, Balance, and an Actions column.

In the Actions column, select Edit to edit the claim or Delete by clicking on the red trash can icon.

When selecting Edit, add the payment information.

When the payment amount is saved, the remaining balance will appear at the top of the page.

Deleting a claim from a remittance will also delete any payment amount from the remaining balance.
Delete Manual Remittance Advices Created in Error
---
Users with permission to delete remittance advices will see a red trash can in the Actions column. To delete a remittance, select the trash can icon.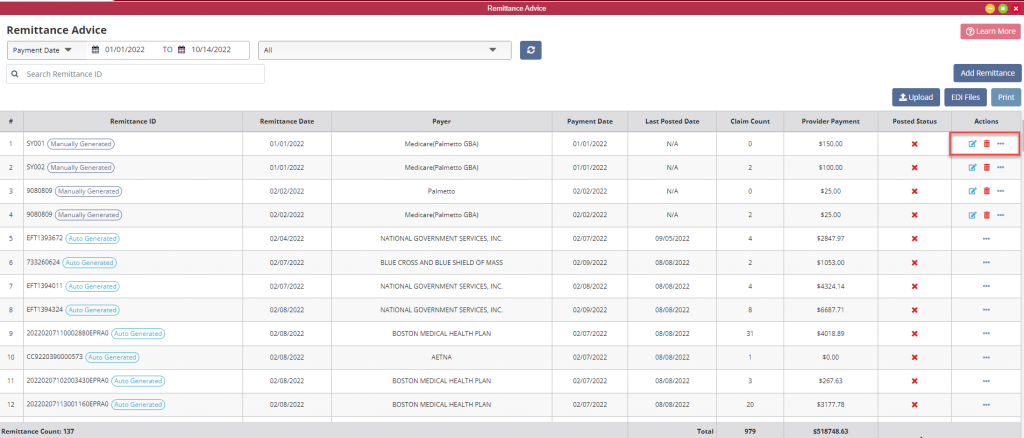 Remittance advices that have claims linked to them cannot be deleted.


To delete a remittance with claims linked to it, unlink the claims and refresh the Remittance Advice screen.

Once the window has been refreshed, select the trash can icon to delete the remittance advice.