Axxess Home Health now enables authorized users to delete tasks in the Quality Assurance (QA) Center. This functionality enables organizations to maximize QA efficiency, streamline operations and promote compliance and accountability.
Delete Tasks in QA Center
---
To access the QA Center, navigate to the Home tab and select Quality Assurance (QA) Center.
Home tab ➜ Quality Assurance (QA) Center
To delete tasks, select the boxes next to each task you want to delete, and click Delete Selected.

View Deleted Tasks/Documents
---
Deleted tasks will flow to the Deleted Tasks/Documents screen. To access this screen, navigate to the Quick Reports section of the patient's chart and select Deleted Tasks/Documents.
Patients tab ➜ Patient Charts ➜ Quick Reports ➜ Deleted Tasks/Documents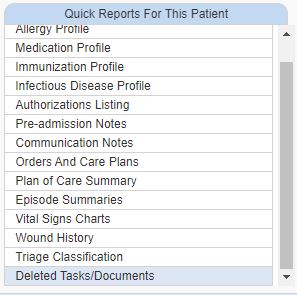 Updated on 04/29/2021