Axxess Home Health now enables users to enter notes on the Orders Management screens. By entering notes in Orders Management, users can easily document interactions with physicians regarding the statuses of physician orders and other critical touchpoints throughout care.
Orders Management Notes
---
To view or enter order notes, navigate to the View tab and hover over Orders Management. Select Orders to Be Sent, Orders Pending MD Signature, or Orders History. A new Notes column appears on each of these screens.
View tab ➜ Orders Management ➜ Orders to Be Sent/Orders Pending MD Signature/Orders History ➜ Notes column
Click on the note icon (

) in the Notes column to enter notes for the corresponding order.
The note icon turns blue (

) once a note has been entered.
Hover over the blue note icon to view the notes entered. Up to three notes can be viewed when hovering over the icon. To view additional notes, click on the note icon.
To enter a new note, type in the text box and click Add Note.
To edit a note, click on the edit (

) icon. To delete a note, click the delete icon (

). Users must have permission to delete notes.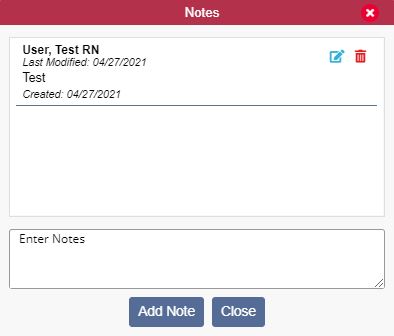 Updated on 04/29/2021