Can multiple users share an account?
Since passwords are used to sign documents in the system, we recommend that users do not share accounts. Add each new user to the system instead, and have users log in using their individual account information.
See Adding a User for instructions on adding new users in the system.
How do I reset my electronic signature?
Hover over the Home tab and My Account.
Select Reset Signature from the drop-down menu.

In the pop up window, click Reset Signature. An email with a link to reset your signature will be sent to the email address associated with your account. Follow the instructions to finish resetting your signature.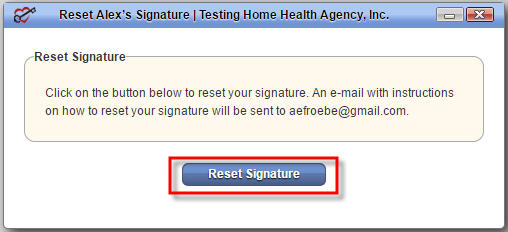 Why is my computer running slowly?
Axxess solutions are web-based, so your internet connection determines the performance speed. You will enjoy a more pleasant user experience the faster your internet connection is, but in general, any internet connection that allows you to browse the web comfortably is sufficient.
Please visit http://www.speakeasy.net/speedtest/ to test your internet speed. Please note that you may experience a slower internet connection when it is shared among several users.
Which browsers does Axxess support?
Axxess solutions are most compatible with Google Chrome and Mozilla/Firefox. However, we do support Internet Explorer and Safari as well.
How often should I save my documents?
Documents should be saved frequently, especially if you are going to be leaving your computer for any length of time.
Do I need to back up my documents?
No. You do not need to do anything to back up your documents. Axxess Home Health automatically backs up all your data.
How do I obtain a list of documents that need to be printed?
You can view all documents that need to be printed in the Print Queue located under the View tab.
Can I print out blank forms?
Yes, you can print blank forms. These are found in the Blank Forms section under the View tab. Click on the form name and select Print.
What do I do with my original paper documents?
You can attach paper documents to each note in the Home Health solution.
How do I attach a document in the system?
There are two places to attach documents in Details.
Go to the Patients tab and select Patient Charts or go to the Schedule tab and select Schedule Center
Find the correct patient using the filters and search options on the left-hand side
Once you have found your patient, from the Action column on the right select Details
A new screen will pop up. Scroll down to find the Browse buttons
Attach scanned files
How do I send and receive messages?
There are two ways to access the messaging system within the Home Health solution:
From your Dashboard under Messages
From the Home tab and go to My Messages
From the Dashboard you can view your Inbox and create a new message. From the Home tab, you can view your Inbox, sent messages and create a new message.
Where else can I get help?
The Help Center gives you access to a wide range of educational content and resources, so you can get help and training anytime, from anywhere. Remember that Help Center content is cataloged by Axxess solution/service, so finding answers in the Home Health solution or another solution is easy and intuitive. A search box appears at the top of each page in the Help Center. Enter key words to navigate directly to the information you're looking for without slowing down your operations. If you can't find what you're looking for in the Help Center, use any of the following platforms to find answers or get assistance:
Live Assistance:
The Support Ticketing Center is our recommended method of contact for any inquiries or requests that require direct assistance from our team. As soon as a ticket is submitted in the Support Ticketing Center, it is immediately routed to the appropriate department based on the product and nature of the request identified by the submitter. Designated staff can access the Support Ticketing Center under the Help tab in the top right of the Home Health system.
Contact our client success team via phone or email to speak with industry experts and get the assistance you need.
On-Demand Assistance:
Explore on-demand videos, blogs, white papers and more.
Ask questions, discuss ideas, share tips and network with Axxess users around the world through the Axxess Community.