The Wound Manager in Axxess Home Health is a robust management system that tracks wounds and wound orders, and provides administrative access to wound history, notifications, photos, characteristics and flowsheet documentation.
Review the following training information before enabling the Wound Manager.
Once the Wound Manager is enabled, your organization will enter a three-week trial period during which the Wound Manager can be disabled. After the trial period has ended, the Wound Manager cannot be disabled.
The following steps provide an overview to get started. For more detailed information on the Wound Manager, click here.
1. Add New Wound Orders
---
Enter wound care orders by selecting the Wound Orders Profile button in an OASIS Start of Care or the Wound Manager button in a clinical note, OASIS assessment or non-OASIS assessment.
OASIS Start of Care ➜ Integumentary Status tab ➜ Orders for Discipline and Treatment section ➜ Wound Orders Profile

OASIS/non-OASIS assessment ➜ Integumentary Status tab ➜ Wound Manager section ➜ Wound Manager button

Clinical note ➜ Integumentary section ➜ Wound Manager button

2. Add Wound Location
---
To document a wound, select Add Wound Location in the Wound Manager.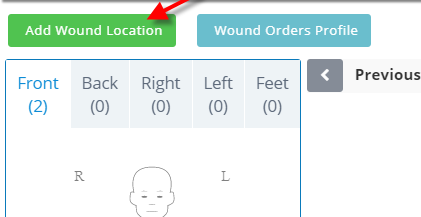 Click the wound location on the anatomical figure and select the specific location from the list.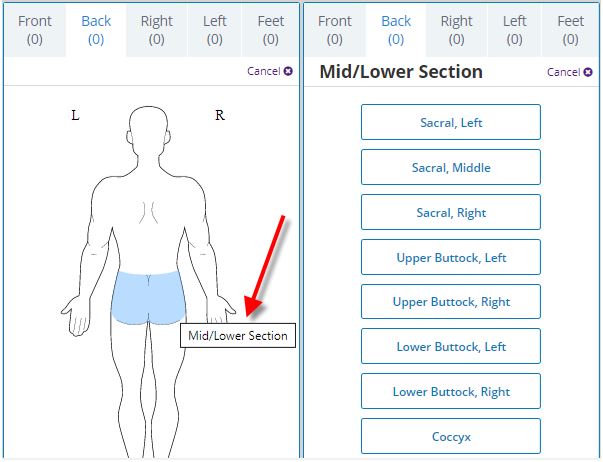 3. Enter Wound Details
---
Enter wound details in the Enter Details wound tile.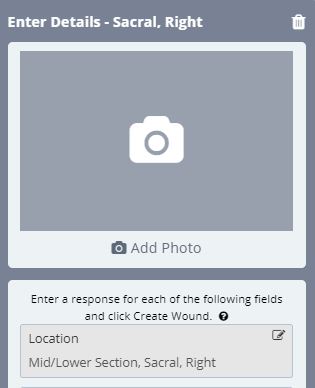 4. Associate Wound to Order
---
Once the wound details are entered, click Select Wound Order to associate the wound to a wound order.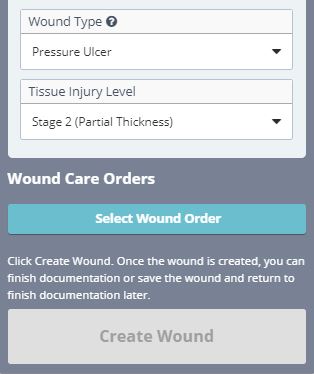 The Wound Orders Profile will open. Select an order from the Wound Orders Profile to associate to the wound.

5. Enter Treatment Performed
---
Once a wound care order is associated, the order text will populate under Wound Care Orders in the wound details. Update the text under Treatment Performed to reflect the wound care treatment provided.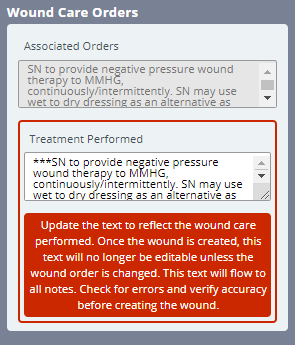 6. Create Wound
---
Click Create Wound to activate the wound. A number will be assigned to track and monitor progress throughout the life of the wound.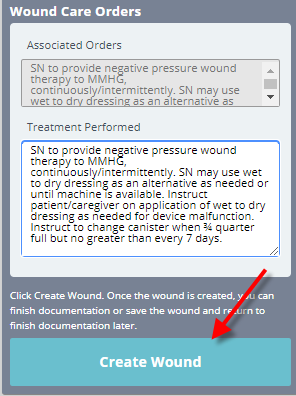 7. Complete Wound Documentation
---
Complete wound assessment documentation. Wound documentation should be completed in the visit date order to ensure proper coordination of care and compliance. Wounds cannot be deactivated, restaged, added or changed once the visit date has passed and another visit has started.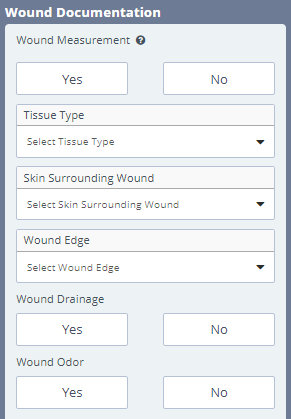 For additional information on the Wound Manager, click here.