The main navigation menu in Axxess Home Health has been updated to give users a more seamless navigation experience.
In the main navigation menu at the top of the screen, the PDGM tab now appears under the Home tab. A new People tab has been added to give users access to the Payroll Export Center and upcoming Employee Center to manage users.
PDGM Tab
---
To access PDGM features, navigate to the Home tab and hover over PDGM. Select the desired PDGM feature from the drop-down menu.
Home tab ➜ PDGM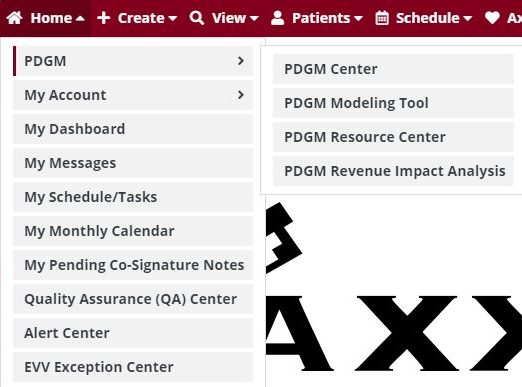 People Tab
---
A new People tab now appears between the Billing and Admin tabs. This tab enables users without administrative permissions to manage users. Hover over the People tab to access the Payroll Export Center.

To view the People tab, users must have the corresponding people permissions.
To give a user permission to access functionality under the People tab, edit the user's profile and navigate to the Permissions tab. In the People section of permissions, select the appropriate permissions. Click Save to finish granting the permissions to the user.
Admin tab ➜ Lists ➜ Users ➜ Edit ➜ Permissions tab ➜ People section ➜ Select permissions ➜ Save

When Axxess releases the upcoming Employee Center, users with the appropriate permissions will be able to navigate to the Employee Center under the People tab.
Updated on 03/10/2021