Orders-Driven Scheduling
---
Orders-driven scheduling enables agencies to optimize operations in the following ways:
Increase Revenue: Claims are less likely to be written off as bad debt.
Decrease Costs: Unnecessary visits outside the patient's frequency are never scheduled or performed.
Streamline Operations: Billers can quickly verify visit compliance prior to claim submission.
Ensure Compliance: Patients are seen based on their ordered frequency.
Improve Patient Outcomes: Agencies can better determine which frequencies produce the best outcomes for patients with specific issues.
Set Up Orders-Driven Scheduling
From the Home screen, click on the Admin tab and select Company Setup (previously Manage Company Information).
Select the Scheduling tab from the left-side menu.
Select the agency branch from the Agency Branch drop-down menu at the top.
The Frequency and Durations Warning feature must be enabled before the Frequency and Duration Compliance feature can be enabled.
Once both features are enabled, select an option to allow scheduling of all visit types or only assessments/evaluations during the first seven days of an episode. Select All Visits to allow visits of any type to be scheduled in the first seven days of an episode. Select Assessments/Evaluations to restrict visit scheduling in the first seven days of an episode to only assessments and evaluations.

Functionality
Once the features are enabled, all visits will require an order before scheduling. Any new episodes will have calendars that are greyed out, except the first seven days of the episode.

Visits scheduled and performed in the first seven days of the episode will have a frequency warning symbol in the Schedule Center, until the OASIS is approved.

Once approved, the warning will be replaced with a green check mark symbol (as long as the visit falls within the ordered frequency).
Once all visits are scheduled, users can access the Frequency and Duration Summary in the Schedule Center, to quickly determine whether a visit was scheduled according to the ordered frequency.
(Schedule tab ➜ Schedule Center ➜ Episode Manager ➜ Frequency and Duration Summary)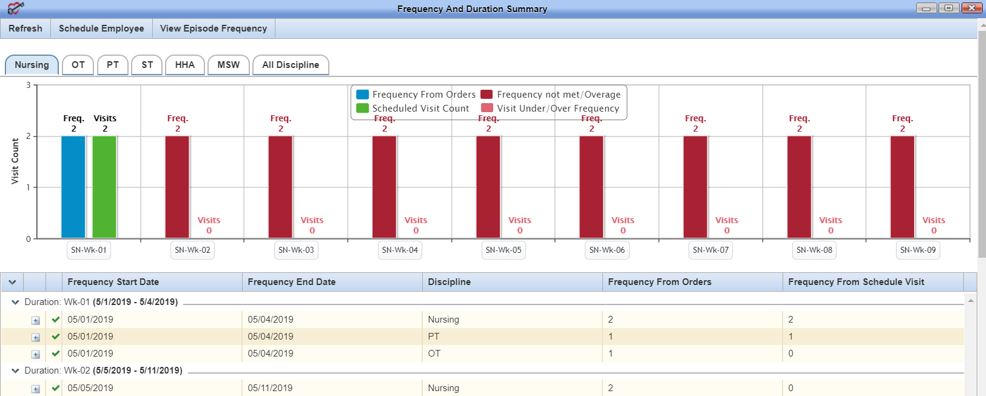 If the user attempts to schedule more than the ordered number of visits for a given frequency, a warning message will instruct the user to complete a new order before scheduling further visits.

Updated on 5/23/2019