MBI Requirement Overview
---
Beginning January 1, 2020, CMS will require all claims, regardless of the date of service, to include the patient's Medicare Beneficiary Identifier (MBI).
Beginning Wednesday, November 13, Axxess' Home Health solution will no longer allow users to admit a patient without an MBI. By requiring users to enter MBIs at intake, this system enhancement facilitates your agency's compliance with MBI usage required by CMS.
All OASIS assessments performed on or after Wednesday, November 13, will validate whether the patient's MBI was captured at intake. The fatal audit currently in place for the Health Insurance Claim Number (HICN) will now apply only to the MBI.
To prevent potential interruptions in patient onboarding workflow and subsequent billing, agencies are encouraged to obtain MBIs for all active patients who do not already have one on file, and enter the MBI in each patient's chart as soon as possible.
Updating a Patient's MBI
---
To update an existing patient's MBI:
Navigate to the Patients tab in AgencyCore
Select Patient Charts
Find the patient's chart and click Edit
Select the Payor tab and enter the MBI in (M0063)
Select Save & Exit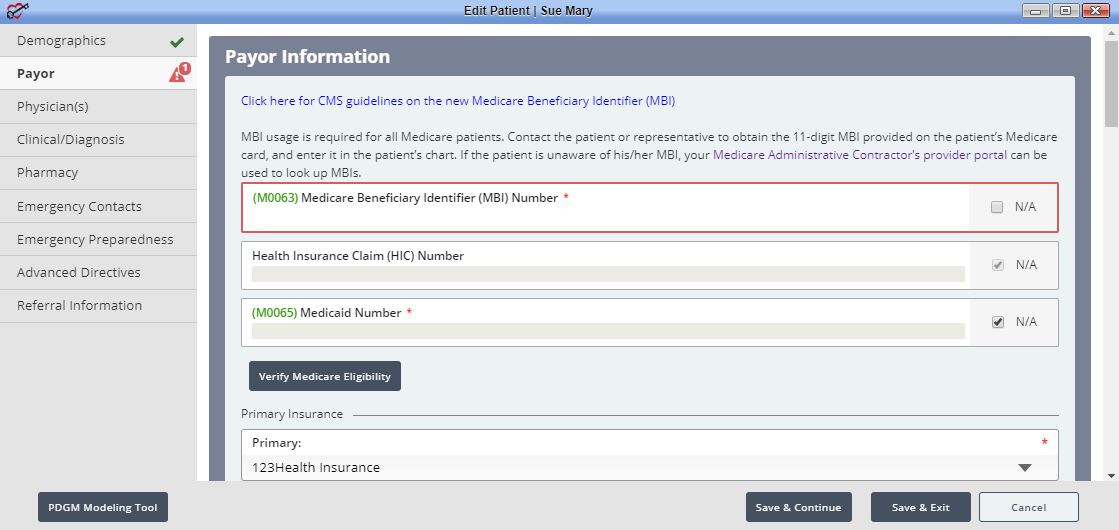 If you are unable to retrieve the MBI of any active patients, click the following link to look up MBIs through your Medicare Administrative Contractor: Medicare Beneficiary Identifier Lookup Tool
For additional information, CMS has provided a fact sheet on the upcoming transition.
Updated on 11/13/2019