Basic Functionality
---
The menu bar is located across the top of the screen in AgencyCore. Hovering over any tab in the menu bar presents a drop-down list of items contained within that category. Select an item to navigate to the corresponding area in the system.
Arrows appear next to menu items with sub-menus. An example of this is My Account under the Home tab. This functionality works on all the menu bar tabs along the top of your screen.

Some of the items found in the menu bar are permission-based and will not appear for users without access to view and manage those areas. For instance, only users with administrative permissions will see an Admin tab in the menu bar. Read more about permissions in the Clerical section of the Help Center here
Home
---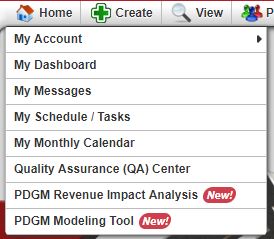 My Account: Gives users the ability to perform password and electronic signature resets and update user address and phone number.
My Dashboard: Provides direct access to the Dashboard.
My Messages: Opens the AgencyCore Message Center. This is an easy-to-use, HIPAA-compliant messaging feature within the system.
My Schedule/Tasks: Provides direct access your working to-do list.
My Monthly Calendar: Displays your working to-do list in a calendar format. Hovering over the day of the week presents a pop-up of task details. Task information located below the calendar can be selected to open and complete tasks on the calendar. Color-coding enables easy identification of scheduled/completed/multiple tasks on the calendar.
Quality Assurance (QA) Center: Provides a central location for QA staff to process clinical documentation. QA staff can view, edit, approve and return documents from within the QA Center. Clinical documentation that passes through the QA Center includes Clinical Notes, OASIS Assessments, Plans of Care, Interim Orders, Summaries, Infection Reports, Incident Reports, etc. The default view when entering the QA Center shows active patient tasks that are ready for processing with an event date in the last seven days. Users have the ability to adjust the patient status, date range, or grouping to view tasks by patient, date, task, or clinician. Information in the QA Center can be exported to an Excel file for further analysis. Click here for additional information on the QA Center.
PDGM Revenue Impact Analysis: Analyzes the impact of PDGM on revenue, based on past episodes. The data in this report is more accurate than any comparable revenue impact analysis in the industry, since it assesses your agency's data for the last three years and shows questionable encounter codes that will not generate payment under PDGM. Click here for additional information on the PDGM Revenue Impact Analysis.

PDGM Modeling Tool: Gives insight into how different factors generate the payment resource groupers under PDGM. Click here for additional information on the PDGM Modeling Tool.
Create
---

From the Create tab, users can hover over New and select from the menu to create one of the following:
Referral
Patient
Episode
Compose Message
Communication Notes
Order
Physician Face-to-Face Encounter
Facility
Pharmacy
Insurance/Payer
Physician
Contact
Incident/Accident Log
Infection Log
The second item under the Create tab is OASIS Export.

All approved OASIS records pull into this window for exporting to your state. OASIS records will stay in this menu until they are either marked as Exported or Completed (Not Exported). Only records that do not require export to the state should be marked as Completed (Not Exported).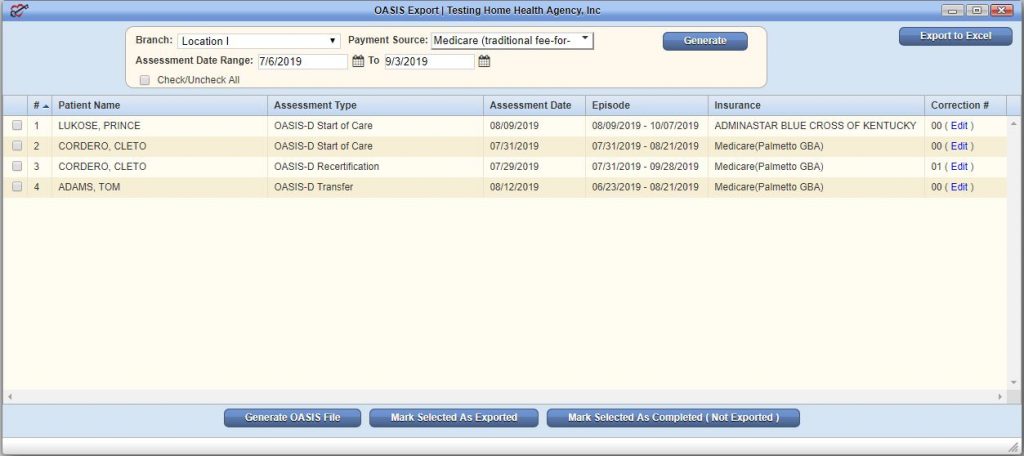 View
---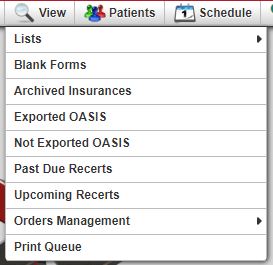 The View tab provides access to view existing items in the system.
Under Lists, users can select to view lists of the following:
Patients
Referrals
Contacts
Templates
Supplies
Facilities
Insurance/Payors
Physicians
Users
Incident Logs
Infection Logs
Communication Notes
Missed Visits
Immunization Logs
Blank Forms: Provides PDF versions of OASIS and discipline-specific electronic forms.
Archived Insurances: Displays archived insurances details for users to review/editing as needed.
Exported OASIS: Displays OASIS assessments that have been marked as Exported. Users can reopen an OASIS or generate a cancel from this screen.
Not Exported OASIS: Displays OASIS assessments that have been marked as Completed (Not Exported). OASIS assessments that are completed for a payer and do not require file export for the state can be marked as Completed (Not Exported) to flow to this screen.
Past Due Recerts: Provides direct access to details for Past Due Recerts with the ability to export Past Due Recert information to Excel for further analysis.
Upcoming Recerts: Provides direct access to details for Upcoming Recerts with the ability to export Upcoming Recert information to Excel for further analysis.
Orders Management: Enables users to co-sign orders and to manage sending/receiving of all orders in the system. A full explanation of the orders management and sub-menus are covered in the Orders Management tutorial.
Print Queue: Enables viewing and printing of visit and task items. Tasks can be grouped by patient, date, task or clinician.
Patients
---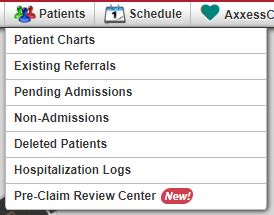 This menu provides efficient access to a variety of patient-related information.
Patient Charts: This is the patient's electronic medical record.
Existing Referrals: When a patient is entered through the Create tab under New and Referral, the information pulls to the Existing Referral list to manage the admissions process.
Pending Admissions are those patients that were either entered through the Create tab under New and Patient or existing referrals that were upgraded to an Admit status then saved.
Existing Referrals or Pending Admissions that did not qualify for admission will be accessible through Non-Admissions.
Deleted Patients: Your agency would only select to delete patients if you do not want the patient on any report, including the non-admit report.
Hospitalization Logs: Patients with completed transfers to inpatient facilities move to the Hospitalization Logs screen, where each hospitalized patient's logs can be reviewed and managed.
Pre-Claim Review Center: Enables agencies to efficiently and seamlessly collect and track pre-claim review documents for submission. Click here for information on the Pre-Claim Review Center.
Schedule
---
The Schedule menu tab contains:
A shortcut to My Schedule/Tasks, which is the dashboard panel discussed earlier.
Access to the Schedule Center, where all tasks are assigned for a patient including:
Start of Care Visits
Evaluations
Supervisory Visits
60-Day Summaries
Routine Visits
An option to quickly Reassign Schedule from outside the scheduling center.
The Schedule Report, which gives you the ability to customize a number of scheduling reports to your own specifications.
The Schedule Deviation Report, which helps your agency's staff in identifying visits that were not completed on the day they were scheduled.
AxxessCARE
---
The AxxessCARE tab is visible to agencies in Illinois, Massachusetts, Texas, Florida, and is coming soon to other states. Click here for additional information on AxxessCARE.
Billing
---
If you have billing permissions, you have the ability to manage your agency's billing and collections activities from this menu.
If your agency has elected to use AxxessDDE, you will be able to access that platform from within AgencyCore.
The Medicare/Medicare HMO payer category allows management of episodic billing through its sub-menus:
Create Rap Claims
Create Final Claims
Pending Claims
Billing Claims History
Remittance Advice
Eligibility Report
The Managed Care/Other Insurances contains corresponding Create Claims and Claims History sub-menus for management of non-episodic billing.
You also have the ability to view All Insurance/Payors on one screen as well as access the Claim Submission History from the main Billing menu.
Admin
---
Users with administrative permissions will see the Admin menu tab. Options under Admin will be dependent on the exact permissions granted.
While most of the options under the sub-menu New replicate the items under the Create tab and New, four additional items are available here to create: a new Template, a new Supply, new Task and new User.
Just as the sub-menu New under the Admin tab contains most of the features as New under the Create tab, Lists under the Admin tab looks similar to Lists under the View tab. The additional features available under Lists within the Admin tab are Task, Adjustment Codes and Upload Types.
Task will allow your agency to set up specific tasks for employees who don't complete clinical documentation. For example: after hours, office staff or on-call time.
The Adjustment Codes allows your agency to set up billing adjustment reason codes. For example copay, bad debt and contractual.
Upload Types refers to the type of documents that your agency would use, such as to upload into the patient chart. For example admission documentation, lab draws results, hospital discharge orders.
Additional access options under the Admin menu are:
Deleted Users, which lists all users who have been deleted from the system. Users can be restored from here.
Payroll Summary, which allows your agency to track and mark visits that are paid.
License Manager, which allows your agency to monitor and update HR information such as professional licenses, required in-services, and supervision.
Agency management also has the ability to Manage Company Information from within the application.
Reports
---
There are two categories under the Reports menu. The Report Center and Completed Reports.
The Report Center hosts a wide variety of reports organized under categories. All reports are designed to assist your agency in operating business in an efficient manner.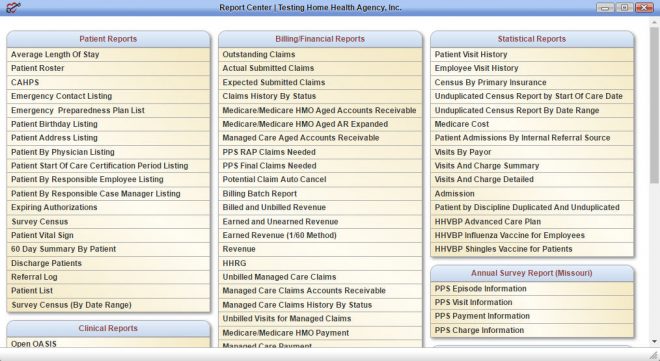 The majority of reports in the Report Center generate without wait time. These reports will directly display on the screen. From here, you have the option to export the report to Microsoft Excel, if you wish to further manipulate the data.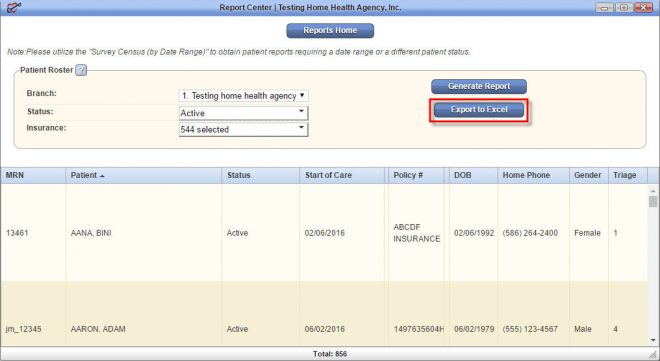 Reports that extract data from a variety of sources and thus take time to build, will notify you via Messages when the report has been created. Once generated, the report will be located in the Completed Reports menu.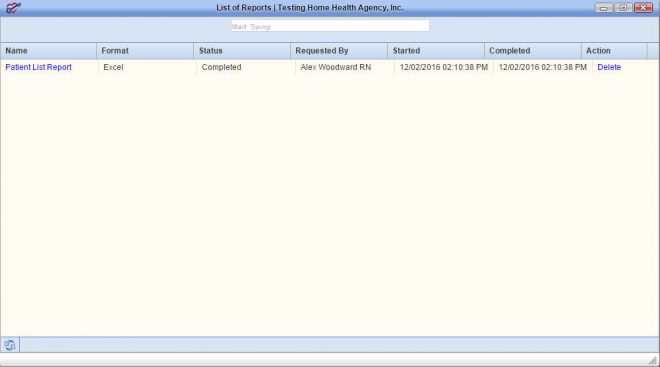 Help
---
At Axxess, one of our core features is our focus on you, our client. On the right-hand side of the menu bar, you will find the Help tab. Under this tab are many ways to obtain assistance to questions you may have in negotiating the many functions and features of AgencyCore.
Under the Support & Training sub-menu, you will find a number of ways to obtain assistance.
Our online Help Center provides answers to common questions you may have.
The Axxess Community allows a platform for all AgencyCore users to post issues/questions/items ranging from system features and functions to operate a home health agency. Grow your network of resources by tapping into other home health providers and users.
You can find Training Webinars that provide more information on AgencyCore and our other products.
From the Help tab, users may also initiate a Join.Me session, for a quick interactive session with a support representative.
You can view Recent Software Updates made to AgencyCore and get help with ICD-10 using the Lookup and Crosswalk tools.
Like us on Facebook or Follow us on LinkedIn through the Social menu to join the community of Axxess users on social media.