To accompany the Telehealth Visit Note functionality, new telehealth interventions have been added to problem statements in Axxess Home Health. The new telehealth interventions facilitate seamless creation of telehealth care plans so agencies can streamline operations and stay compliant with telehealth requirements.
Telehealth Interventions
---
Telehealth interventions now appear under the following problem statements:
| | |
| --- | --- |
| Alteration in Cardiac Status | |
| Alteration in Respiratory Status | |
| Alteration in Endocrine Status | |
| Alteration in Hematological Status | |
Remember that Axxess enables users to upload telehealth templates as needed throughout the care planning process. All interventions automatically flow to the plan of care, clinician notes, plan of care summary and automated summaries.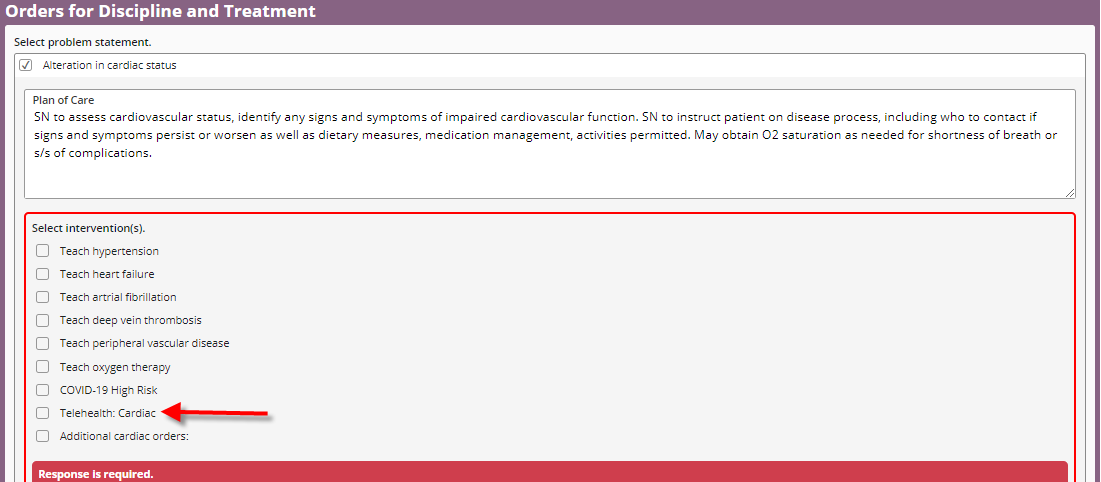 Telehealth HHQI Guides
---
To facilitate seamless telehealth processes and documentation, the following Home Health Quality Institute (HHQI) resources from CMS have been added to Telehealth Visit Notes in Axxess Home Health.
| | |
| --- | --- |
| Patient Self-Care Workbook: A step-by-step guide for patients on disease process self-management | |
| Clinical Education Tool: Clinician training on best practices for assessment, teaching and training, and phone monitoring for agencies using telemonitoring when measures fall outside of established parameters | |
| Decision Support Tool: Helps clinicians quickly and properly intervene with appropriate measures to decrease the risk of adverse events and improve patient outcomes | |
These tools have been developed for COPD, diabetes and heart failure to prevent high hospital readmission rates. Links to download the HHQI resources appear when any of these disease processes is selected under Telehealth Assessment.

The COVID-19 resource links have also been updated with the most up-to-date information from the Centers for Disease Control and Prevention (CDC). The CDC continuously updates COVID-19 information so clinicians have access to the most current information.
Updated on 5/18/2020