New comprehensive occupational therapy assessments in Axxess Home Health enable users to maintain standard, compliant documentation for patients whose payers do not require OASIS assessments.
The new OT non-OASIS assessments include Plan of Care Profile access, auto-generated Plans of Care, MedlinePlus and CDC resource links, and the ability to load previous documentation to save time and streamline processes. Additional documents, including aide care plans and infection logs, are also available from within the new assessments.
Each new OT non-OASIS assessment is labeled with its respective time point:
| | |
| --- | --- |
| OT Assessment- Discharge (Non-OASIS) | |
| OT Assessment- Recertification (Non-OASIS) | |
| OT Assessment- Resumption of Care (Non-OASIS) | |
| OT Assessment- Start of Care (Non-OASIS) | |
| OT Assessment- Transfer (Non-OASIS) | |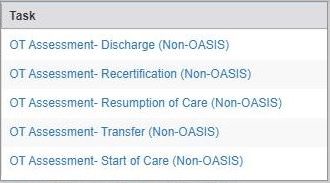 Schedule an Assessment
---
The new OT non-OASIS assessments can be scheduled through the Therapy menu in the Schedule Center.
To schedule an OT assessment for a patient whose payer does not require OASIS submission:
Navigate to the Schedule Center under the Schedule tab. Select a date on the calendar to schedule the assessment. In the Scheduler menu, navigate to the Therapy tab. Select a task from the Task drop-down menu and select a user to complete the task. The date selected on the calendar will populate in the Date field. Click Save to schedule the task.
Schedule tab ➜ Schedule Center ➜ Select date on calendar ➜ Therapy tab ➜ Complete fields ➜ Save

Complete an Assessment
---
The new assessments have the same functionality as the OASIS-D1 assessments, except for OASIS-dependent functionality like the scrubber and Check for Errors Audit features.
Users can load previous comprehensive assessments in the Load Previous Assessment sections.

In the Diagnoses Symptom Control sections, users can click the up and down arrows on the left to adjust the sequence of diagnoses as needed. The MedlinePlus link to the right of each diagnosis provides teaching guidance on the disease and disease management of the diagnosis entered.

Assessment entries populate the components in the patient's chart, including allergies, medications, immunizations, advance care planning and emergency preparedness.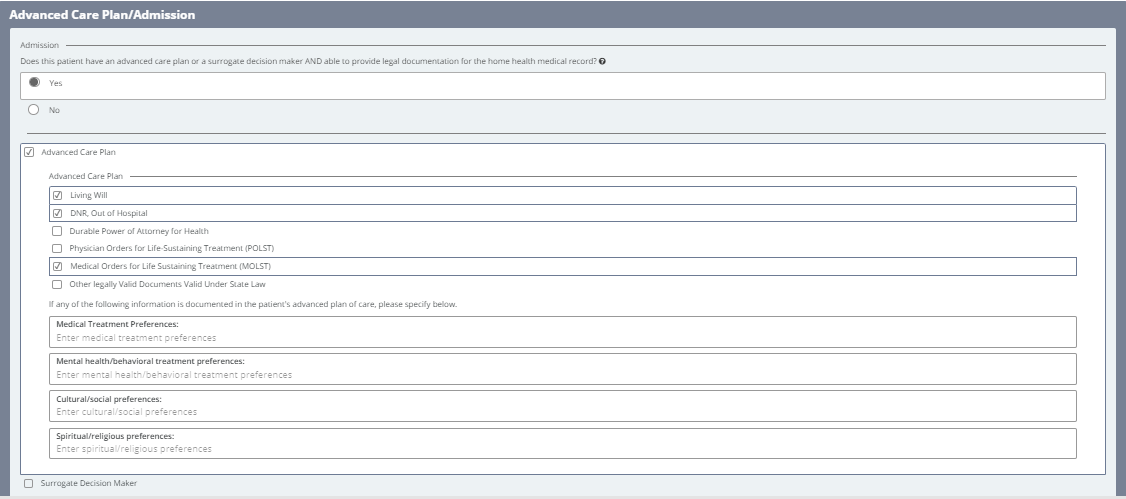 Direct access to the Plan of Care Profile provides prompts for effective care planning and populates the auto-generated Plan of Care.

Additional documents, including HHA care plans and infection logs, are available from within the assessments.

Completing an OT non-OASIS assessment automatically generates the Plan of Care, drives scheduling, and provides data for episode summaries from recertification, transfer and discharge.
Other documents completed during the comprehensive assessments will populate in the Schedule Center on the date of completion.
Updated on 11/11/2020