The Employee Roster now enables agencies to tag and track contracted therapists and therapy companies. This functionality helps office personnel monitor employee/patient interactions and on-call staff operations for seamless surveying.
Agencies must identify the appropriate employees as contractors in their user profiles for contractor information to flow to the Employee Roster.
Update Contractor User Profiles
---
To identify a contracted employee, edit the user's profile and select Contractor in the Employment Type drop-down menu under User Information.
Admin tab ➜ Lists ➜ Users ➜ Edit ➜ Information tab ➜ User Information section ➜ Employment Type ➜ Contractor
Once Contractor is selected as the user's employment type, a Company Name field will appear. Enter the company name and click Save.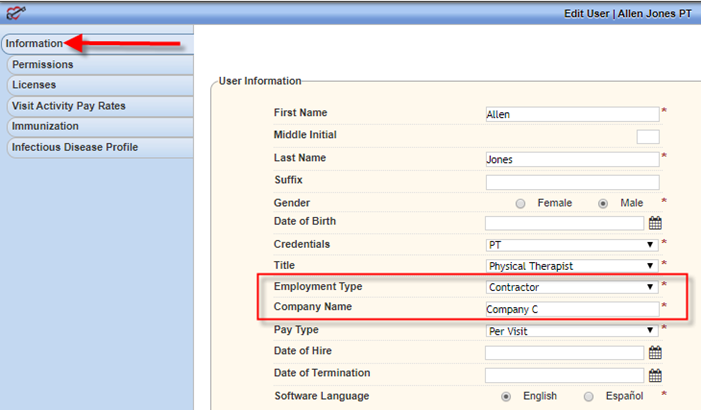 Once the user is identified as a contractor, the user's information will populate in the Employee Roster.
Generate Employee Roster Report
---
To generate the Employee Roster, navigate to the Report Center under the Reports tab. In the Employee Reports section, select Employee Roster.
Reports tab ➜ Report Center ➜ Employee Reports section ➜ Employee Roster
The Employee Roster has a new Employee Type column. If Contractor was selected in the user profile, the name of the company will appear in this column.

The new Employee Type column also appears in the Excel file when the user selects Export to Excel.
Updated on 4/23/2020