New functionality in Axxess Home Health enables users to identify vital sign parameters in Company Setup to populate automatically on comprehensive assessments.
Using the vital sign parameters feature, agencies can streamline documentation processes, maintain accurate vital signs data, decrease time spent on documentation, and focus more on delivering high-quality care for optimal patient outcomes.
Enable Vital Sign Parameters
---
To enable the vital sign parameters feature, navigate to Company Setup under the Admin tab. On the Clinical tab of Company Setup, select Enable under Vital Sign Parameters to generate a table of preloaded vital signs.

Enter Vital Sign Parameters
---
To enter specific vital sign parameters according to your agency's policies and procedures, select Edit above the table and adjust the parameters as needed. Click Save to save your changes or Cancel to discard changes. Click Submit Request at the bottom of the screen to finish enabling the vital sign parameters feature.
Admin tab ➜ Company Setup ➜ Clinical tab ➜ Vital Sign Parameters ➜ Enable ➜ Enter parameters ➜ Submit Request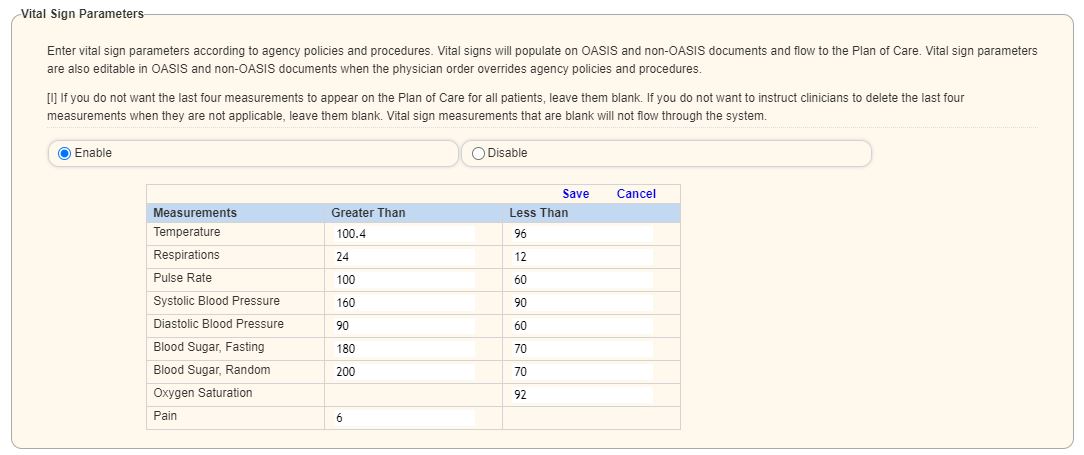 Once entered in Company Setup, vital signs will populate on OASIS and comprehensive (non-OASIS) assessments and flow seamlessly to the Plan of Care. If physician orders require different vital sign parameters, clinicians can override the auto-populated vitals as needed in the respective assessments.
Updated on 6/30/2020