Preadmission notes enable agencies to document notes in a patient's chart before admitting the patient. This functionality facilitates seamless tracking of pending admissions and streamlines coordination of care.
Access Preadmission Notes
---
To access preadmission notes, navigate to the Patient Charts and filter by Pending Patients. Select Preadmission Notes from the Quick Reports menu in the patient's chart.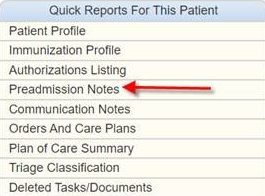 Add Preadmission Notes
---
To add a preadmission note, select Add New Note in the Preadmission Notes window.
Patients tab ➜ Patient Charts ➜ Filter Pending Patients ➜ Quick Reports menu ➜ Preadmission Notes ➜ Add New Note

Enter a title and description, and click Save.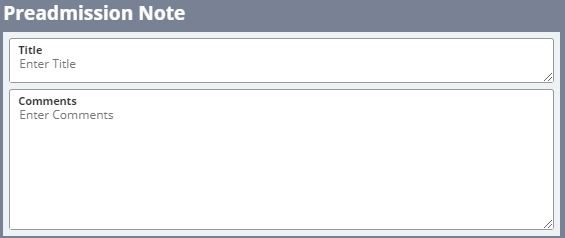 In the Action column of the Preadmission Notes window, users can select to edit or delete existing preadmission notes.
Updated on 2/14/2020