Gross Margin Calculator
---
The Gross Margin Calculator shows your agency's gross profit and loss so you can adhere to predetermined gross margin percentages and evaluate care and utilization more closely. It assists with financial operations by ensuring the proper steps are taken upfront to encourage accountability and communication between financial and clinical operations.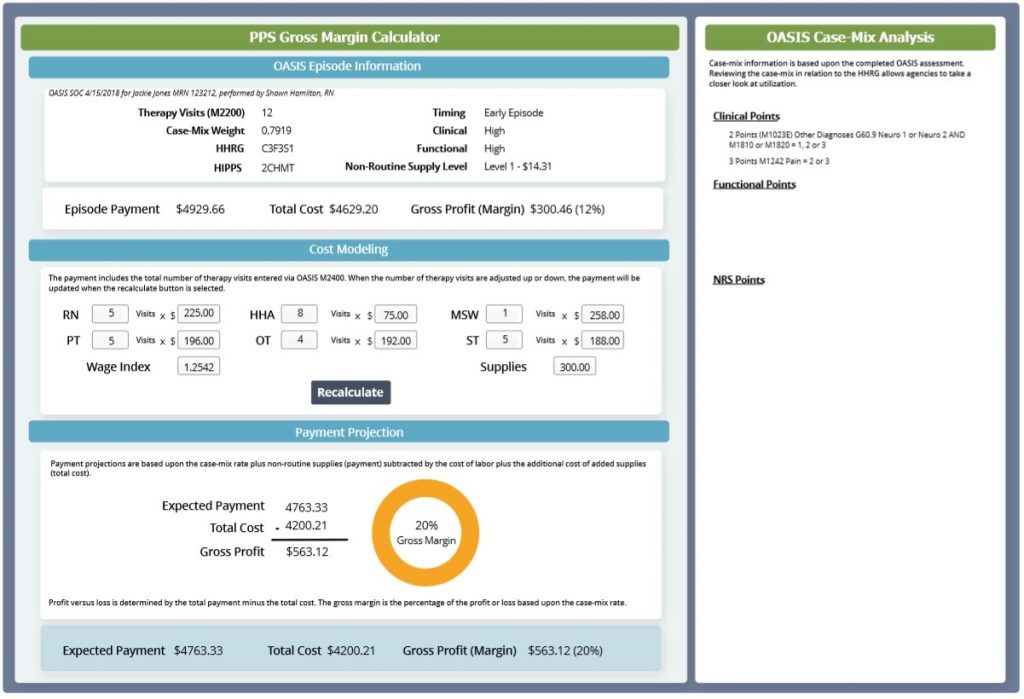 All users with access to the Quality Assurance (QA) Center can open the Gross Margin Calculator when reviewing OASIS documentation.
The following items are available in the in the Gross Margin Calculator and explained further below:
OASIS Episode Information
Cost Modeling
Cost Payment Projection
OASIS Case-Mix Analysis
OASIS Episode Information
This section includes information that is generated from the OASIS assessment.
When the Gross Margin Calculator is first opened, the following fields are generated by the OASIS assessment: Home Health Resource Group (HHRG), Expected Payment, Total Cost, and Gross Profit (Margin).
The OASIS Case-Mix Analysis section on the right side lists Functional and Clinical OASIS items used to produce the HHRG score.
Episode Payment is based on the case-mix rate.
Total Cost is based on the number of visits and average discipline cost per visit.
Average Discipline Cost Per Visit X Number of Visits = Total Cost
(Average discipline cost per visit is identified in Manage Company Information under the Admin tab.)
Expected Payment includes Therapy Visits (M2200).
The HHRG score can be adjusted in two ways:
1) Use the Cost Modeling tool to adjust the number of therapy visits, then update Therapy Visits (M2200) in the OASIS assessment.
2) Update the Clinical and Functional items in the OASIS assessment.
Once the OASIS assessment is updated, the information in the Gross Margin Calculator will automatically update to reflect the changes.
Updated on 5/23/2019