Billing Center
---
The Billing Center enables users to manage all billing processes in a central location and streamline operations to ensure timely claim submissions.
Access the Billing Center
To access the Billing Center, users must have the Access Billing Center permission enabled.

Users with this permission can navigate to the Billing Center under the Billing tab.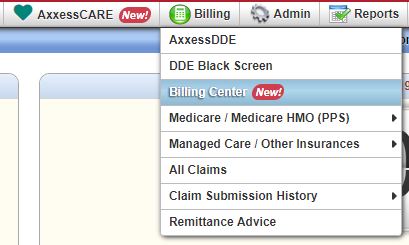 Benefits of the Billing Center
The Billing Center is a one-stop shop that houses a variety of claim statuses, claim types and payer types.
It offers a direct connection to access historical data of previously submitted claims through the Claims History button.
The Billing Center features a user-friendly format for ease of use.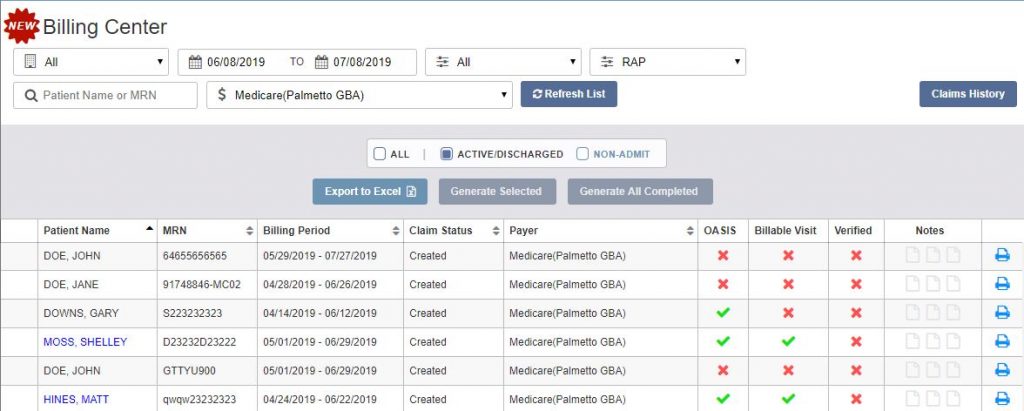 Billing Center Functionality

Billers can manage all claims in one central location, rather than navigating between several windows to manage different payers.
The Billing Center enables users to view the Create PPS RAP, Create Finals, and Create Claims sub-menus under one window.
Users can filter by RAP, Final, or Managed Care claims.

A Claims History button is available so that users do not have to return to the main Billing menu to access historical data of previously submitted claims. The button takes users to the claims history corresponding to the selected payer type. For example, selecting RAP or Final and clicking Claims History will navigate to the Medicare/HMO history. Selecting Managed Care then Claims History will navigate to the Managed Care claims history.
The Billing Center displays claims in Created, Rejected, and Denied status.
Claims in Rejected/Denied status can be reviewed and addressed in one screen for the selected payer type.


The same functionalities available in the previous Billing menu are available in the Billing Center.
Users can filter by date range, payer, and patient status.
The Verified column displays verification checks to include all steps required for claim submission.

ICD-10 Diagnosis Update
---
A comorbidity adjustment is one of four primary components that comprise the PDGM regulations effective January 2020. When an agency assesses a patient under PDGM, all diagnoses will be taken into consideration to determine whether the patient is eligible for a low or high comorbidity adjustment, if any.
When a Medicare or Medicare HMO claim is selected for any patient, only the primary diagnosis is required, but users can also enter up to 24 additional diagnoses in the first step of the claim creation process.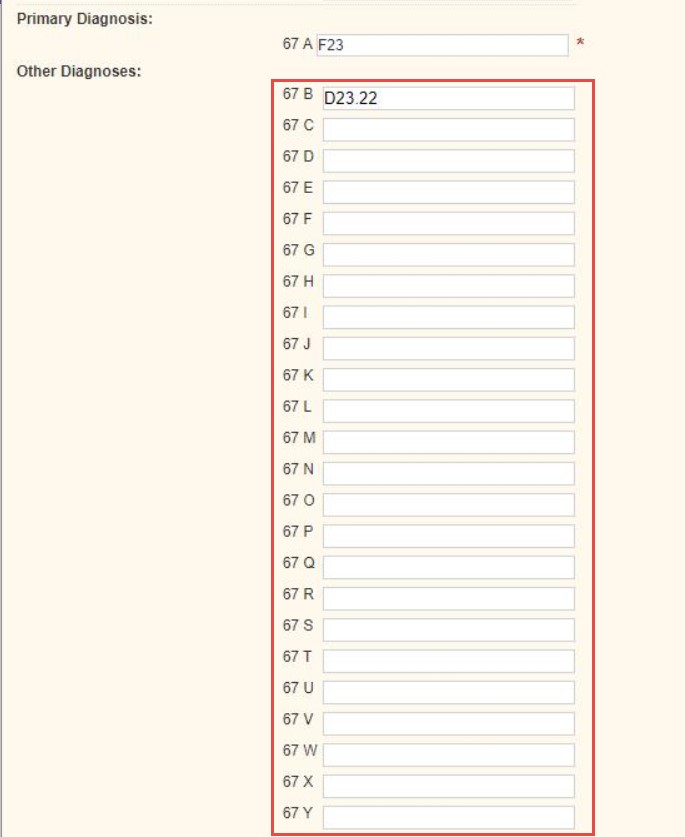 With the ability to provide all diagnoses that apply to a patient's episode of care, agencies are better equipped to:
Increase revenue to highest possible reimbursement per episode; and
Improve patient outcomes with a complete picture of all issues affecting the patient.
Additional information on PDGM can be found in the PDGM section of the Help Center and in the Axxess PDGM Resource Center.
Claim Status Update
---
Accounts receivable management is critical to financial health under PDGM. The Home Health solution enables users to assign a status to each RAP and Final claim (e.g., Paid, Submitted). In addition to the existing claim statuses, users can assign a Write-Off status to Medicare and Medicare HMO claims.

Claim statuses appear in A/R Roll Forward Reports, so users can communicate actions taken or actions needed on individual claim amounts.
Updated on 7/09/2019