OASIS-C2: No Risk for Hospitalization
---
When selecting the option "Patients with no hospitalization, 30 days past hospitalization or recent discharge" in the Risk Assessment section of the OASIS, the No Problem Identified selection box (under the Acute Care Hospitalization Risk Assessment (HHQI) heading) now has a tool tip, and the information has changed as follows:
Hospitalization Risk Assessment performed. Patient determined to not be at high risk for hospitalization nor emergency department visits.
If selected or checked, the No Problem Identified statement above will populate on the Plan of Care (under the Orders for Discipline and Treatment section) and print PDF.
OASIS-C2

Plan of Care

OASIS-C2: M2001 and M2010 Validation
---
When M2001 Drug Regiment Review (in OASIS Medications tab) is selected with the answer "0- No issues found during this review", a new validation has been implemented to check for M2010 Patient/Caregiver High Risk Drug Education being documented as required (i.e., an answer must be selected). If M2010 is blank or does not have an answer, a new fatal audit error 5490 will be displayed during the OASIS audit (Check for Errors).
Note: M2020 Management of Oral Medications and M2030 Management of Injectable Medications documentations are not required when M2001 is selected with "No issues found". As a result, audit error 5490 will not trigger if only M2010 is documented and M2020/M2030 is not selected or blank.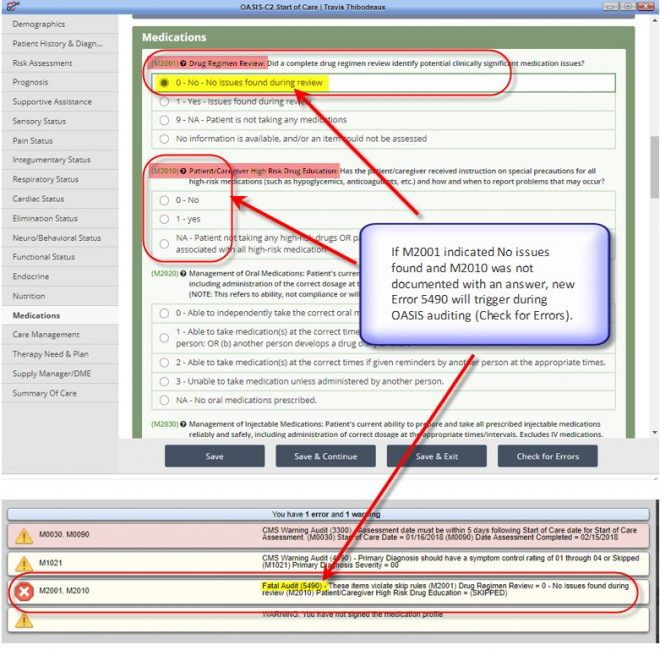 Patient Profile: Advance Directives
---
The Advance Care Plan information now carries over to the new Advance Directives section of the Patient Profile PDF (from Quick Reports).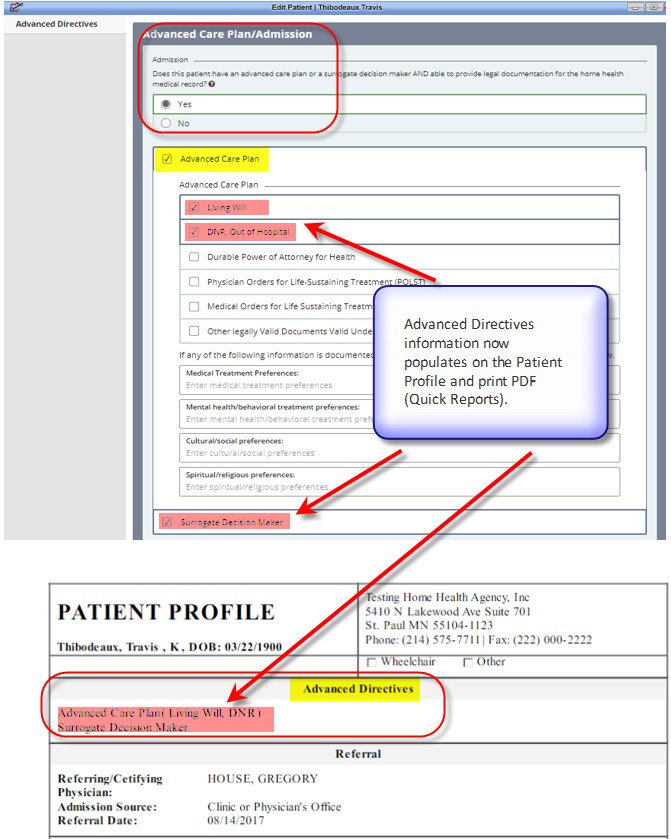 Updated on 5/22/2018