Billing Permissions
---
The Billing tab and menu items are accessible to users based on billing permissions. Billing permissions can be enabled when creating a new user or granted anytime by editing an existing user.
Hover over any of the billing permissions to view a description of what the permission does.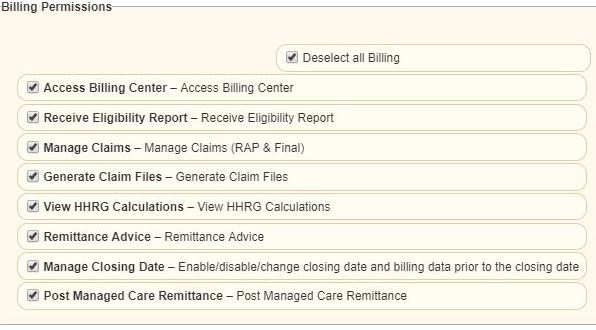 Billing Menu
---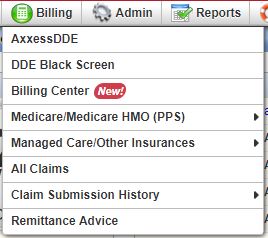 The following menu items are provided under the Billing tab:
AxxessDDE enables users to navigate directly to the AxxessDDE application. The AxxessDDE section of the Help Center provides helpful information and guidance on the AxxessDDE platform. Click the link or navigate to the AxxessDDE section by selecting the AxxessDDE tab above.
DDE Black Screen opens in a separate tab when selected, so users can stay in the Home Health solution while working in the black screen.
Billing Center enables users to manage all billing processes in a central location and streamline operations to ensure timely claim submissions. Visit the Billing Center section for detailed information on the functionality included in the Billing Center.
Medicare/Medicare HMO (PPS) enables users to bill and manage Medicare and other episodic payers. For detailed information on this section, see Medicare/Medicare HMO (PPS).
Managed Care/Other Insurances enables users to bill and manage non-episodic payers. For detailed information on this section, see Managed Care/Other Insurances.
All Claims gives users access to view all claims by payer to complete verification and submission of claims.
Claim Submission History enables users to access historical data of previously submitted claims. Users can also access claims history by clicking the Claims History button in the Billing Center.
Remittance Advice enables users to view all Medicare remittances for the agency, and manage, download, and print remittance advice information. Users can adjust the date range and payer of the remittance list view, and filter by post status to view all remittances in the selected date range or only those without payment posted. For agencies that bill through Axxess, remittance information will automatically pull to this page. Agencies that do not bill through Axxess can upload their remittance files and manage remits with the same functionality as those billed through Axxess. For additional details, see Electronic Remittance Advice.
---
Users with billing permissions can also view outstanding claims in the Outstanding Claims tile on the Dashboard.