---
Discharge OASIS assessments now guide users through best practices for resolving patient goals at discharge. To comply with the Medicare Conditions of Participation (CoPs), Axxess recommends that clinicians address all goals whether they are met or unmet. In circumstances when goals are not met, clinicians should document in the OASIS assessment why the patient was unable to meet the goal.
Medicare Home Health Conditions of Participation:
484.50(c)(5) The patient has the right to receive all services outlined in the plan of care.
484.55(c)(2) The patient's strengths, goals, and care preferences, including information that may be used to demonstrate the patient's progress toward achievement of the goals identified by the patient and the measurable outcomes identified by the HHA.
484.55(d)(3) The comprehensive assessment must be updated and revised at discharge. The comprehensive assessment update at discharge should include a summary of the patient's progress in meeting the care plan goals.
484.105 The HHA must organize, manage, and administer its resources to attain and maintain the highest practicable functional capacity, including providing optimal care to achieve the goals and outcomes identified in the patient's plan of care, for each patient's medical, nursing, and rehabilitative needs.
Resolve Goals at Discharge
On the Summary tab of the Discharge OASIS assessment, enter the Plan of Care Profile.

Resolve all goals in the Plan of Care Profile by selecting the appropriate option in the Select to resolve drop-down menu.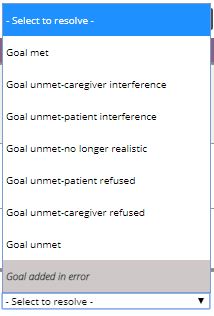 If goals are left unresolved, the clinician will receive a warning message before the signature page.

Goals that are not resolved will remain in unresolved status but will not remain on the Plan of Care if the patient is admitted for care by the agency in the future.