Axxess CARE now provides a Document button under interventions and goals in the Plan of Care Profile. This enhancement facilitates quick and accurate documentation of interventions and goals in the plan of care.
To access the Document button, navigate to the Plan of Care Profile and expand all statements. Select the intervention being performed or the goal being resolved. The Document button appears under all interventions and goals.
When Document is selected under an intervention or goal in the POC Profile, the intervention/goal text will populate in the Intervention field of the OASIS assessment or skilled visit note. Users can edit the populated text as needed in the SN visit note or OASIS assessment for complete precision and accuracy.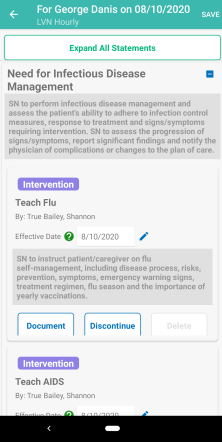 Updated on 6/11/2020