Users can now document all active service and mailing addresses, and accommodate services performed throughout the community.
Adding Multiple Addresses & Community Services
To view or add client addresses, navigate to the Demographics section of the client's profile.
Clients tab ➜ Client Center ➜ Edit ➜ Information tab ➜ Demographics
On the Demographics section of the client's profile, users will first see the Primary Address. This address will always be identified as a service address.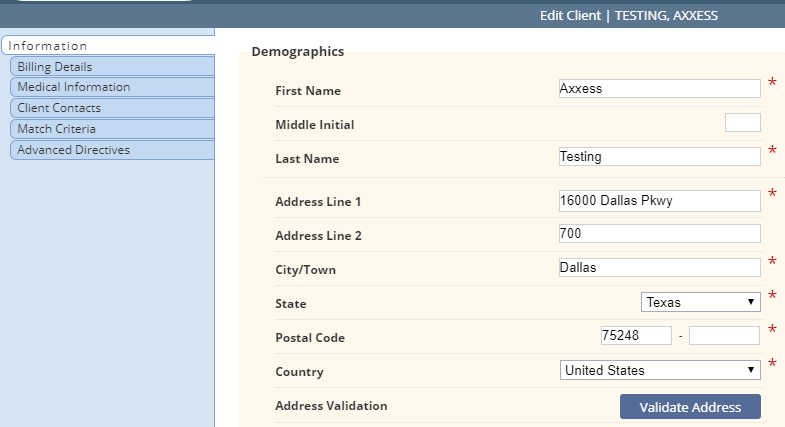 Below the Demographics section, there is a new Community Services feature. Enabling this feature will allow caregivers to complete EVV regardless of service location address. This removes the 1,500-foot EVV geofence and enables EVV location services outside of this parameter.

To view or add client addresses, users can scroll down the Information tab to the new Additional Addresses section.

To add client addresses, select Add Address and enter all pertinent information. Required fields are identified with red asterisks.

Select an address type from the Address Type drop-down menu. (The Mailing Only option cannot be identified as a service address.)

Users can also select a previously entered facility by selecting from the options in the Address Name drop-down menu.

When entering an additional address, users can designate whether or not the location will be a service address. Selecting Yes next to Service Address will activate the address as an available EVV service location.

Select Save Address to finish adding the address. Once additional addresses have been saved, they will display in the Additional Addresses grid and can be edited or deleted by selecting Edit or Delete in the Action column.

Using Multiple Addresses & Community Services on Mobile
This features enables caregivers to select from multiple service addresses when completing electronic visit verification on a mobile device.
After opening a visit, or while ending a visit, caregivers will now see an arrow next to the client's address. Selecting the arrow enables caregivers to see any additional service addresses. (The address closest to the caregiver's current location will be the default selection.)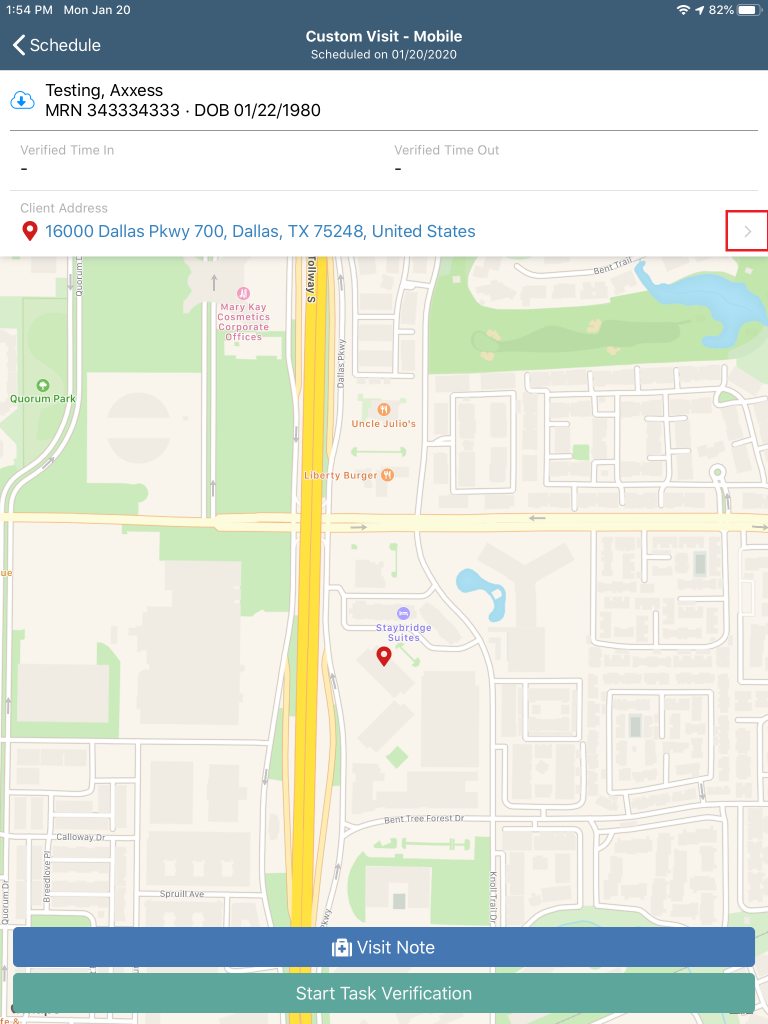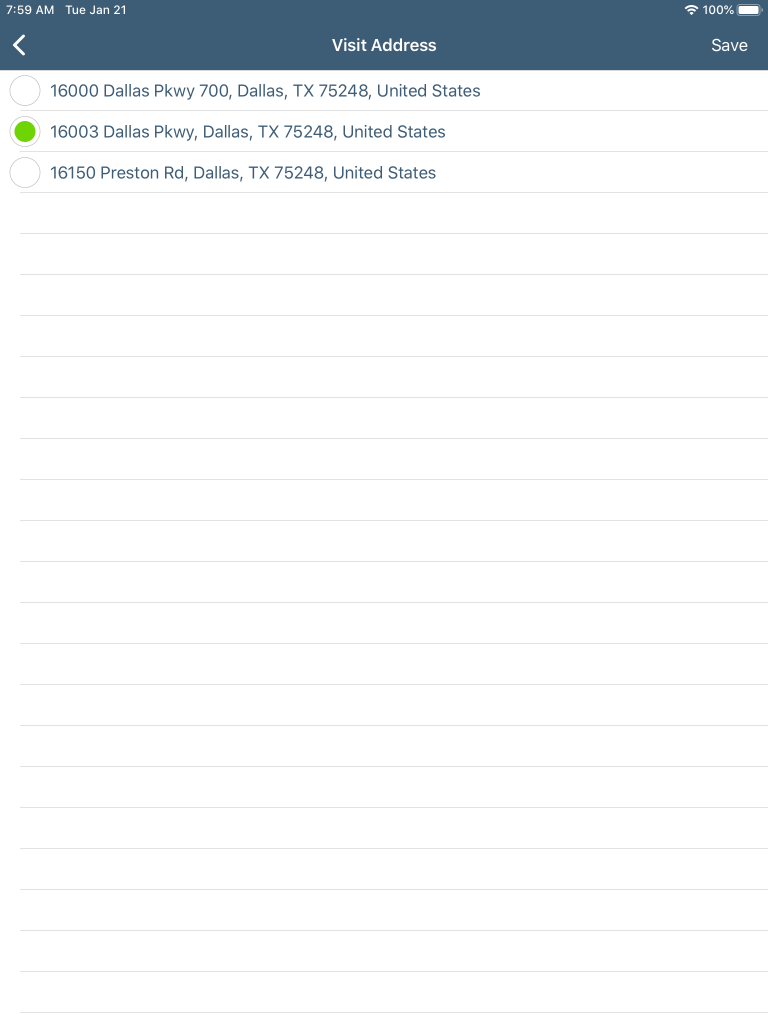 If Community Services has been enabled in the client's demographics, the address list will display the Community Services option.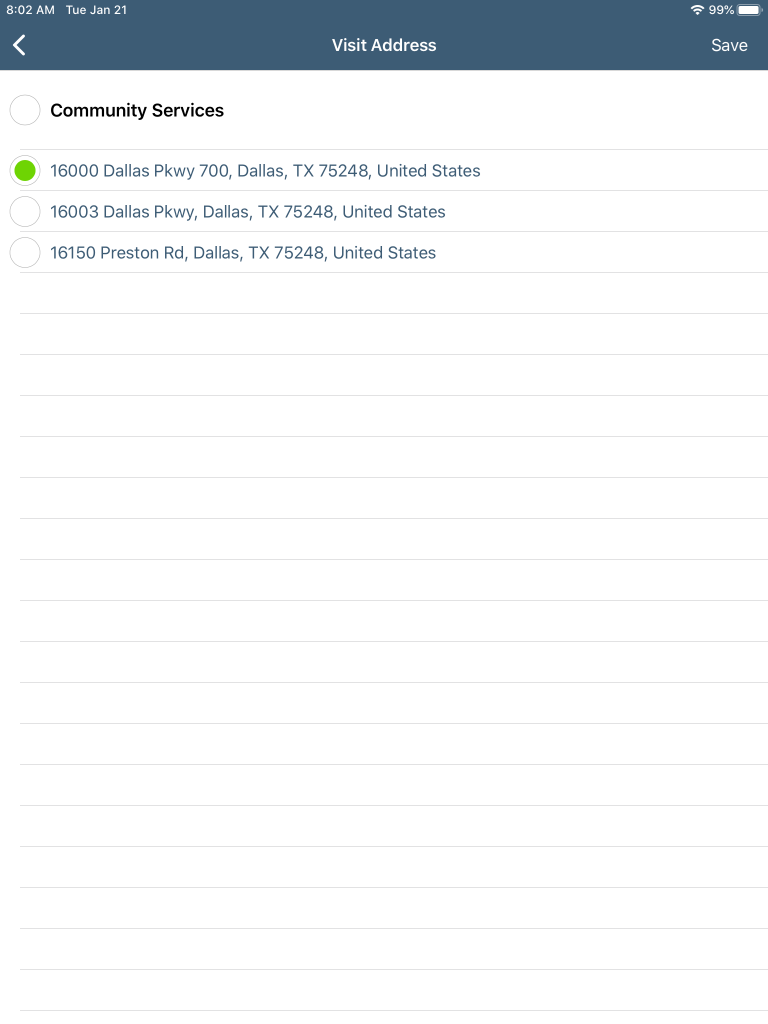 Updated on 1/27/2020