This permission-based feature enables users to track referrals throughout the referral process.
To give a user permission to track referrals, navigate to the user's profile in the Employee Center and select Permissions in the Quick Links menu. Scroll to the Reports section, and select Referral Tracking under Client Reports. Click Save at the bottom of the screen.
Employees ➜ Employee Center ➜ Permissions ➜ Reports section ➜ Client Reports ➜ Referral Tracking ➜ Save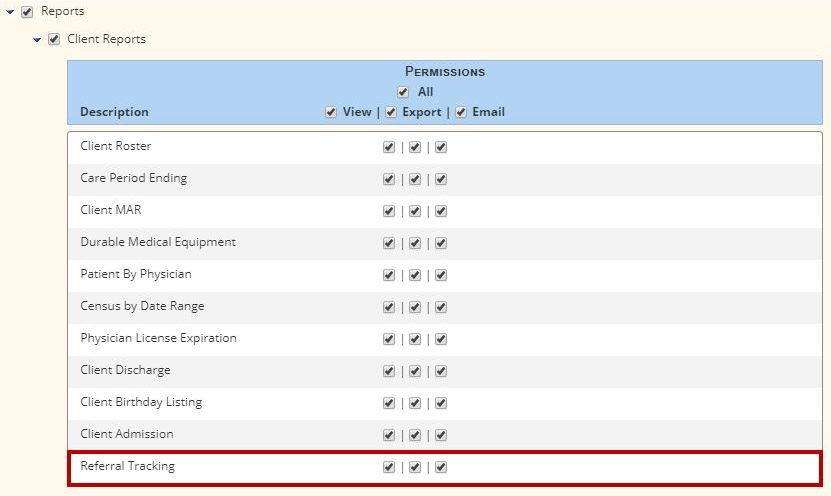 Once permissions have been enabled, the user can access the Referral Tracking report in the Report Center under Client Reports.
Reports tab ➜ Report Center ➜ Client Reports ➜ Referral Tracking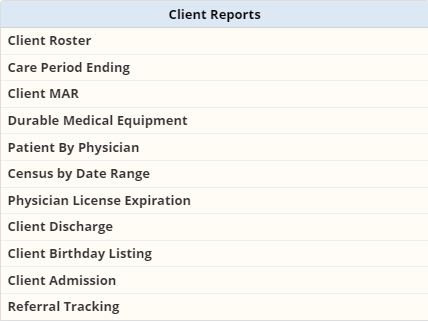 The following parameters can be used to filter data in the report:
Branch
Referral Types
Physicians
Facilities
Community Programs
Referral Date Range
Medical/Non-Medical
Tags
Marketers
Select additional data points to display in the report using the Columns to Display drop-down menu. Once parameters have been selected, click Generate to run the report. Users can also export to Excel for further analysis.

Only clients with referral information will appear in the Referral Tracking report.
Updated on 10/09/2019