Axxess Home Care now enables organizations to upload company logos to appear on invoices. Once an organization uploads a company logo in Company Setup, the logo will appear automatically in the top left corner of invoices.
This feature helps organizations strengthen marketing and brand awareness with clients and funding sources to grow business and increase revenue.
Upload a Logo
---
To upload your company logo, navigate to Company Setup under the Admin tab. On the Information tab, click Upload Logo in the Organization Logo section.
Admin tab ➜ Company Setup ➜ Information tab ➜ Organization Logo ➜ Upload Logo

Upload a logo, select the organization branch, select the document type and click Save.

Field
Description
Logo
Select Browse to locate and upload an image from your device.
Organization Branch
Select a branch for the logo. Select All to activate the logo for all branches/locations, or select an individual branch if each location has a different logo.
Document Type
Select the document type for the logo to appear on. To add the logo to invoices, select Invoice under Billing/Invoice.
Once the logo is uploaded and saved, the system will generate a preview so the user can confirm that the appropriate logo was uploaded. Click Edit under Actions to edit the logo information or Delete to delete the logo any time.

Once a logo has been uploaded and saved, it will automatically appear in the top left corner of invoices.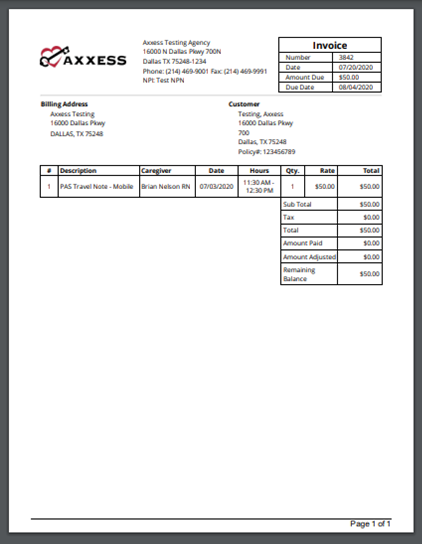 Updated on 9/15/2020