The Schedule Center in Axxess Home Care now provides quick access to task details and schedule comments, so users can seamlessly plan and deliver client services.
Quick details provide convenient access to the most relevant scheduling information, and schedule comments enable users to communicate seamlessly regarding client scheduling.
Users must have specific scheduling permissions to access quick details and schedule comments in the Schedule Center.
Schedule Permissions
---
All users with permission to view the schedule list will have access to view quick details. To give a user permission to view the schedule list, edit the user's profile and navigate to the Permissions tab. In the Clerical section, select View List from the Schedule permissions.
Employees tab ➜ Employee Center ➜ Edit ➜ Permissions tab ➜ Clerical section ➜ Schedule subsection ➜ View List

To enable the user to view bill rates and pay rates in the quick details for scheduled tasks, select the View Bill Rate and View Pay Rate permissions. To enable the user to view schedule comments, select the Schedule Comments permission.

Quick Details
---
To view quick details for a scheduled task, hover over the task in the Schedule Center.
Schedule tab ➜ Schedule Center ➜ Hover over scheduled task
In the quick details menu:
| | |
| --- | --- |
| Select Message Employee to message the employee assigned to the task. | |
| Select the house icon next to EVV Time to view the task's EVV details. | |
| Select Schedule Comments to view, add, edit or delete schedule comments. | |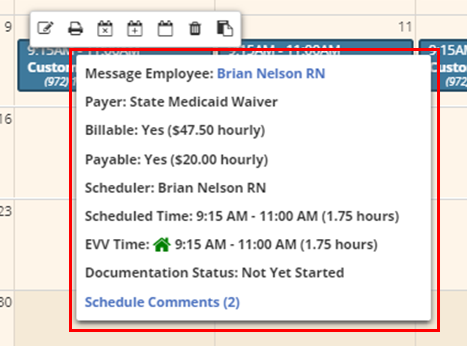 Schedule Comments
---
Users can view, add, edit and delete schedule comments by selecting Schedule Comments from the quick details menu or from the Actions column when viewing the Schedule Center in list view.
Schedule Center ➜ List Tasks ➜ Actions column ➜ Schedule Comments
To edit or delete an existing schedule comment, select Edit or Delete under Actions.

To add a new schedule comment, select Add Comment. Enter the comment and select Save & Close to save the comment, or Save & Add Another to continue adding schedule comments to the task.

Other Schedule Center Updates
---
The client header in the Schedule Center now displays the client's gender, address, phone number and birthday.

The assigned employee's phone number now appears on the scheduled task when viewing tasks in calendar view.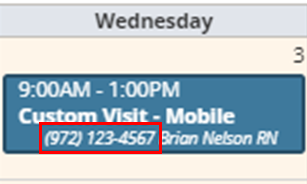 Updated on 6/16/2020