Axxess Home Care now enables users to reduce the number of payment sources needed to invoice staffing payers by using client addresses and bill rates on invoices. This feature streamlines operations by minimizing additional steps in the billing process.
Staffing Invoice
---
To set up a staffing invoice, navigate to the View tab, hover over Lists and select Payment Sources.
View tab ➜ Lists ➜ Payment Sources
To create a new staffing invoice, select New Payment Source.

Navigate to Invoice Type and select Invoice. In the Payer Type section, select Staffing.

The Payer Information section enables users to use the contact payer address as the billing address and to use bill rates from the client's profile. Select "Use client contact payer address as billing address." and "This payment source will use the bill rates in the client's profile."

To add a bill rate in the client's profile, select Billing Details. Under Client's Invoice Task Rates, select Add Task Rates.
Clients tab ➜ Client Center ➜ select a user ➜ Edit ➜ Billing Details ➜ Client's Invoice Task Rates ➜ Add Task Rates

To add a client contact payer address in the client's profile, select Client Contacts and select Add New Contact/Payer.

Under the address section, select Set Up as Payer and Set as Primary Contact.
Clients tab ➜ Client Center ➜ select a user ➜ Edit ➜ Client Contacts ➜ Add New Contact/Payer ➜ Set Up as Payer and Set as Primary Contact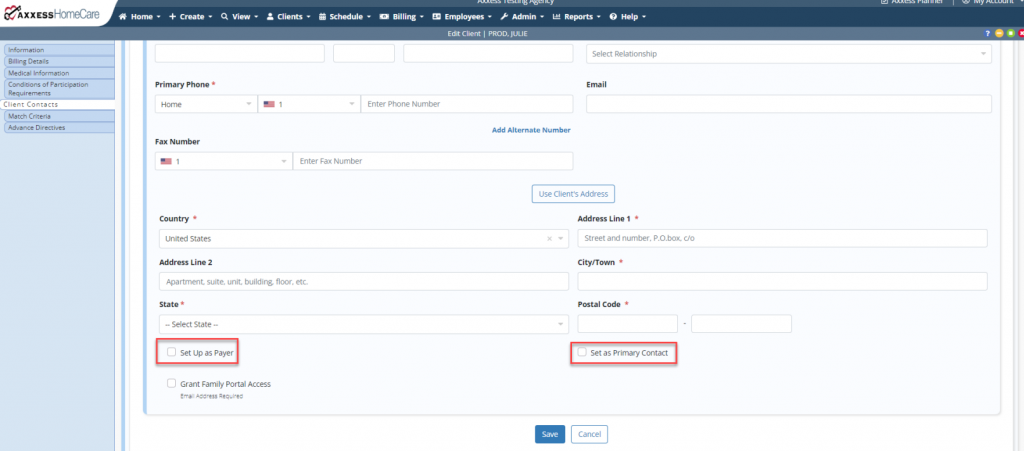 Updated on 07/28/2022