Axxess Home Care now enables users to attach Fall Risk Assessments to all documents. This functionality facilitates seamless documentation management and tracking to improve client outcomes and stay compliant.
Users must have permission to attach Fall Risk Assessments to documents in Axxess Home Care.
Fall Risk Assessment Permissions
---
To give a user permission to attach Fall Risk Assessments to documents, navigate to the user's profile and select Permissions in the Quick Links menu. In the Clinical section, select the box next to Fall Risk Assessment. Click Save to finish granting the permissions to the user.
Employees tab ➜ Employee Center ➜ Quick Links ➜ Permissions ➜ Clinical ➜ Fall Risk Assessment ➜ Save

Enable Fall Risk Assessments
---
To enable Fall Risk Assessments, navigate to Company Setup under the Admin tab. On the Document Management tab, select Edit next to any document that requires a Fall Risk Assessment Addendum. Select Record Fall Risk Assessment and click Save to finish enabling the Fall Risk Assessment Addendum functionality.
Admin tab ➜ Company Setup ➜ Document Management tab ➜ Edit ➜ Record Fall Risk Assessment ➜ Save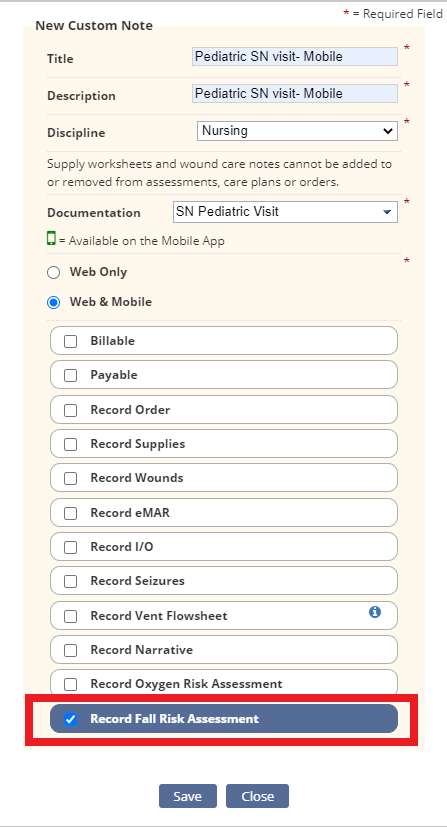 Once the feature is enabled, users can select Fall Risk Assessment in the Addendum section of corresponding notes. The Fall Risk Assessment Addendum feature is also be available on the mobile application.

Fall Risk Quick Report
---
Users can also access a new Fall Risk quick report in client charts. The Fall Risk quick report displays each fall risk addendum completed for the client. To view a client's Fall Risk quick report, navigate to the client's chart and select Fall Risk under Quick Reports.
Clients tab ➜ Client Center ➜ Quick Reports ➜ Fall Risk

At the top of the report screen, enter a date range to display fall risk addenda completed within a specific time frame. The date range is limited to three months. Below the date range filter, users can view all fall risk addenda completed in the selected time frame.
The following information displays for each addendum:
| | |
| --- | --- |
| Date of the fall risk assessment | |
| Task documentation associated with the addenda | |
| Employee who completed the addenda | |
| Fall risk total score | |
Depending on permissions, users can view, print and/or delete addenda using the icons in the Actions column.

To view the answers selected in an assessment, click the view icon (

).
Clients tab ➜ Client Center ➜ Quick Reports ➜ Fall Risk ➜ Actions column ➜


Updated on 04/21/2021