The dashboard in Axxess Home Care opens automatically upon logging in to the system. The dashboard tiles are permission-based, so users can only see tiles within their user permissions. Users can click and drag the tiles to organize them according to their viewing preferences.
To open the dashboard from anywhere in the system, navigate to the Home tab and click My Dashboard.
The banner at the top of the dashboard displays the current date and time in the top left corner, and the organization name and location appear in the top right corner.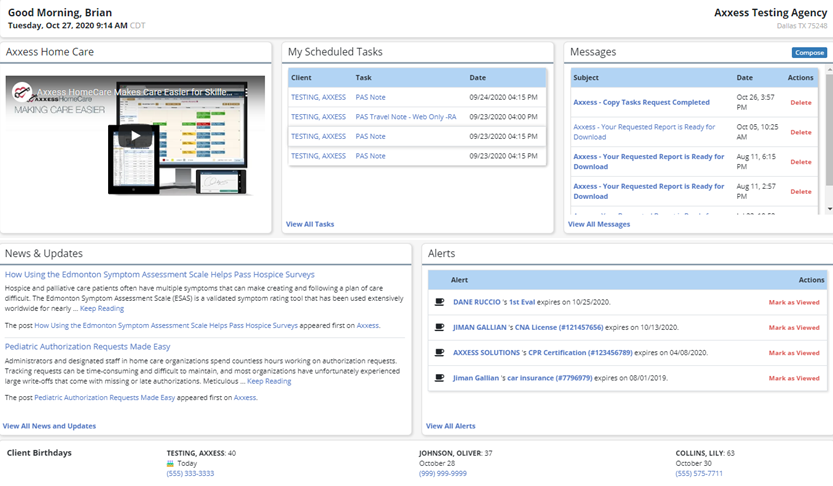 Dashboard Video
---
The video tile in the top left corner provides the latest information on new features, enhancements, regulatory announcements and industry-relevant information to facilitate your success. Users can click the play button to watch the dashboard video.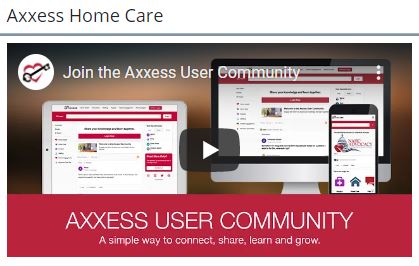 My Scheduled Tasks
---
The My Scheduled Tasks tile provides a snapshot of your upcoming tasks. Click on a client's name to open the client's chart, or click on a task to open and complete the task. Click View All Tasks in the bottom left corner of the tile to view all scheduled tasks for the next two weeks and any outstanding tasks for the past three months.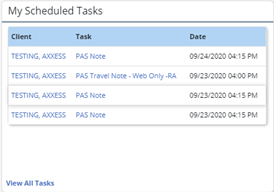 Messages
---
The Messages tile provides a snapshot of recent messages in your HIPAA-compliant Message Center. Since messages in Axxess Home Care are secure behind your unique login and password, users can send and receive messages regarding client care, employee schedules, license expirations, and company-wide memos through the Message Center. Click on a message to open it in your secure Message Center.
Axxess regularly sends important alerts and updates to you through your Message Center. We recommend checking your messages frequently to stay up to date on new features and enhancements designed for your organization's success.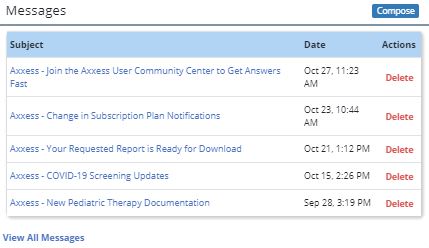 News & Updates
---
The News & Updates tile provides direct links to Axxess blog posts, educational articles, regulatory updates and other important information to help your organization succeed.
Alerts
---
The Alerts tile provides direct access to important alerts from the Alert Center. Click View All Alerts to open the Alert Center.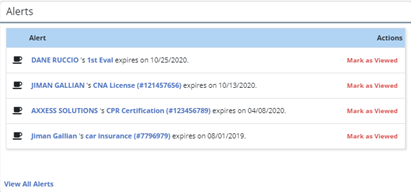 Client Birthdays
---
The Client Birthdays panel at the bottom of the dashboard displays upcoming client birthdays. Clients whose birthdays fall on the current day are identified with a birthday cake icon.

Using Your Dashboard
---