Now that you have logged in, let's take a look at the Axxess HomeCare Dashboard.
The Axxess HomeCare Dashboard contains six panels. Taking a quick look at the Dashboard, you will see the word
More in the bottom right-hand corner of various panels. Clicking on this link will open that particular panel and enable
you to perform or view additional information.
Welcome
---
Moving from left to right across the rows, you'll see the Welcome panel occupying the upper left-hand corner of the dashboard
grid. Axxess utilizes this section to feature noteworthy items for you and your agency. This may include training videos
or other interactive announcements, including video content from regulators or from the Axxess team.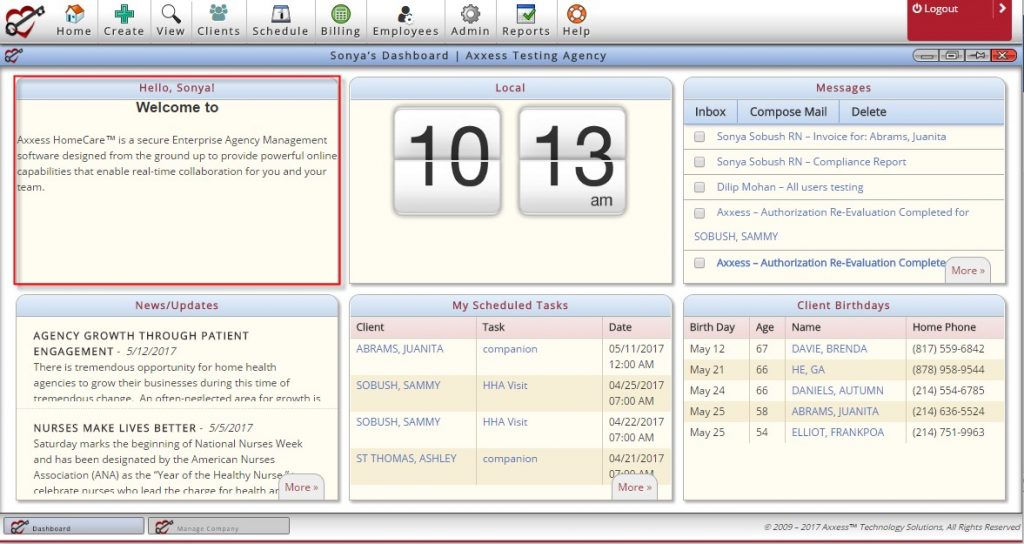 Local
---
The middle panel along the top displays the current time for your agency.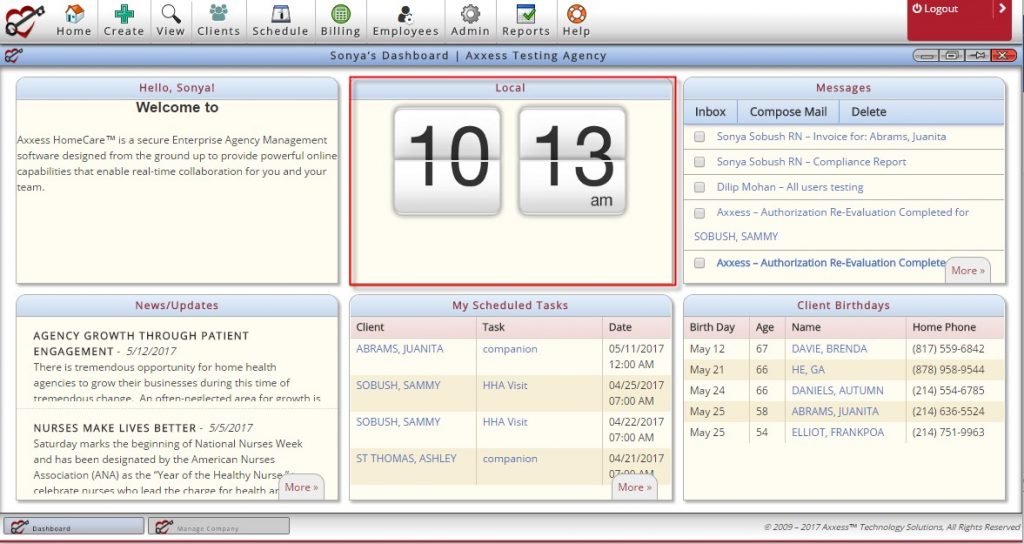 Messages
---
On the top right, is the Messages Center. This HIPAA compliant email messaging feature enables your agency to communicate
in a secure manner. The messages stay contained within the Axxess HomeCare system. Additionally, users receive an email to
the address associated with their username, letting them know that they have a message.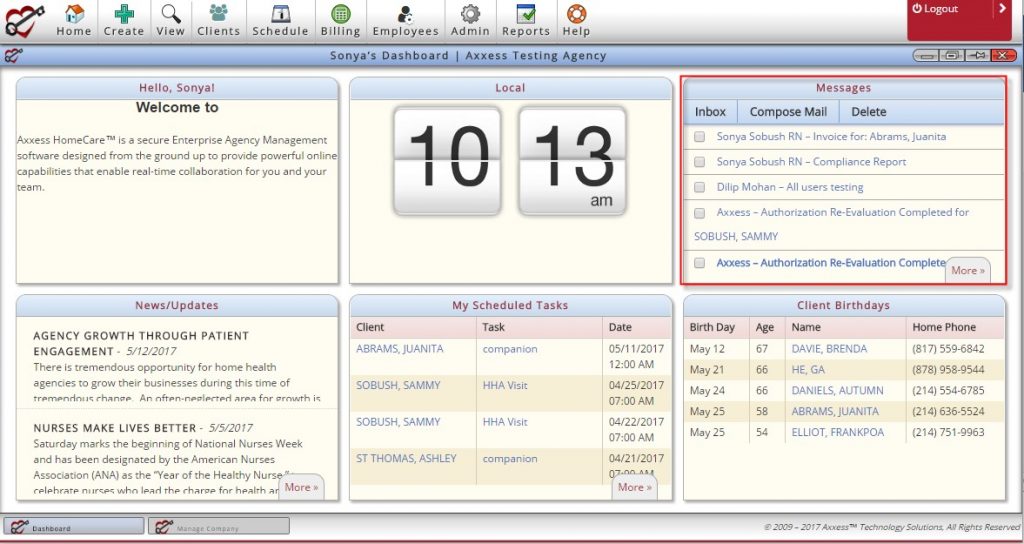 Since messages are fully contained within the system and secure behind the login/password that is unique to each user, messages
such as notes regarding a client's condition or care, employee schedules and license expiration, as well as organization-
wide memos can be sent without fear that information may be compromised.
News / Updates
---
Moving down to the bottom row, you'll find the News and Updates panel, residing in the left column. This feature includes
links to Axxess generated blog posts, educational articles, regulatory updates and other important information to help you
and your organization succeed.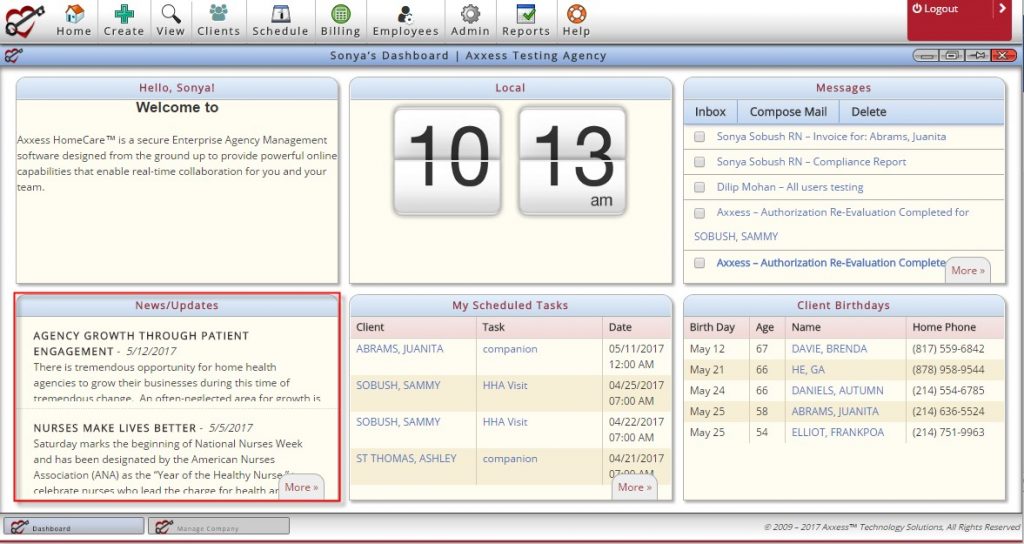 My Scheduled Tasks
---
To the right of the News and Updates, is My Scheduled Tasks. This is your personal task-focused 'to do' list. From the Dashboard,
you are able to quickly access the client chart and/or task for the first five tasks on your to do list by clicking on the corresponding
blue hyperlink.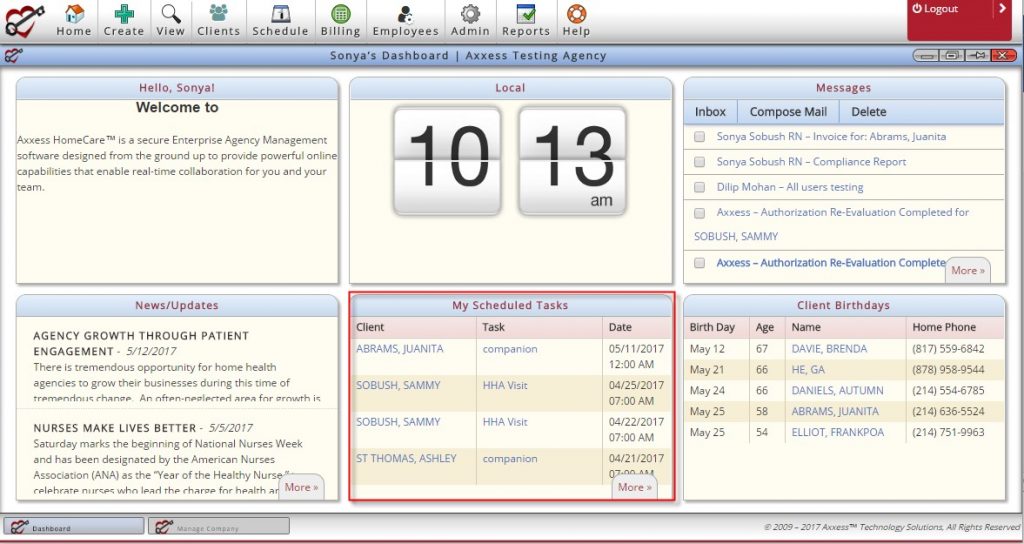 View everything currently on your schedule in month/week or day view by clicking on the More link in the bottom right of the
My Scheduled Tasks panel. You can print your calendar or export to Microsoft Excel allowing you flexibility in managing your
schedule.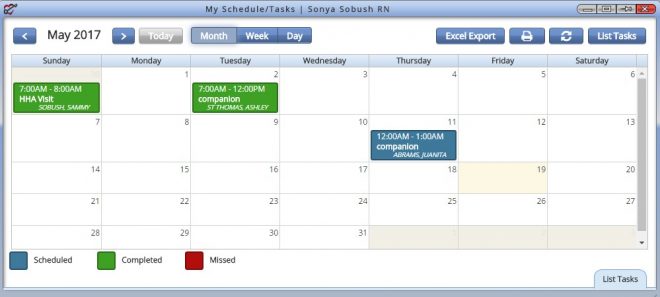 Clinicians have the ability to open a task, complete a missed visit, as well as track the status of a task from inside their
My Scheduled Task panel. In addition, Episode (blue), Task (yellow) and Return (red) comment 'sticky notes' may be viewed
from this pane. We will get into more detailed functionality of the sticky notes in other tutorials.

Client Birthdays
---
On the far right in the bottom row, is the Client Birthdays panel. This is a quick reminder of the clients who will celebrate
birthdays in the upcoming week/month, so that you or your agency can send out thoughtful birthday cards or
acknowledgements optimizing positive client/provider relationships.