Axxess Home Care now enables users to document additional COVID-19 vaccine doses, including booster shots and third doses for immunocompromised patients and employees.
To document a COVID-19 immunization, navigate to the Client Center under the Clients tab or the Employee Center under the Employees tab. Select Immunization Profile from the Quick Reports menu (or Quick Links menu in the Employee Center) and click Add Immunization.
Select the type of immunization from the Type drop-down menu. To document a booster, select COVID-19, Booster. To document another COVID-19 vaccine, select COVID-19, Other. Complete the remaining fields and click Save & Close to finish documenting the immunization.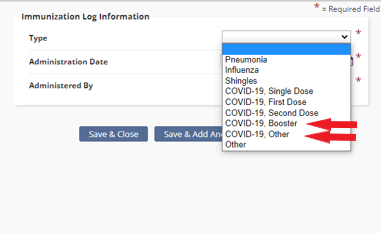 Updated on 12/01/2021